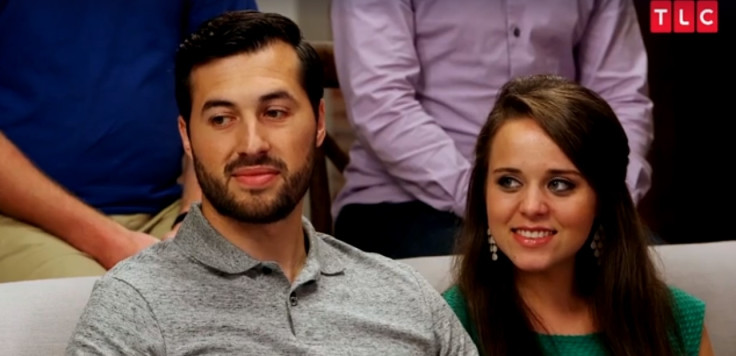 It is snowing in Texas and what better way to celebrate the "Christmas miracle" than frolicking on the freshly spread snow. Jinger Duggar is doing exactly that – officially far away from the traditional rules set up by her parents Jim Bob and Michelle Duggar as she continues to defy their strict dress code post her wedding with Jeremy Vuolo.
The Counting On star shared a couple of photos on Instagram photos enjoying the surprise snowfall in Texas while wearing a red oversized, full- sleeve sweater and navy-blue tight legging. "Let it snow! Let it snow! Let it snow," an overjoyed Jinger captioned the image series. In another photo, she was seen kissing her husband.
Celebrating the winter, her husband shared a video of the 23-year-old reality star jumping on a freezing day. "The weather outside is frightful," Jeremy captioned the image but his wife was certainly not sad as she seemed to be enjoying every bit of the rare snowfall in Texas.
The couple's followers couldn't help but notice the drastic fashion makeover of the fourth Duggar daughter as she continues to rebel her parents strict "modest" dress code, which dictates the ladies of the Evangelical Christian family to only wear skirts, knee-length dresses and loose pants in case of swimming.
"Curious to know what they [Jim Bob and Michelle] thought too. Knowing they were brought up so strict. With the exception of Jinger I kind of knew that she would be different," one of the couple's fan commented. One of Jinger's 650,000 followers thought the reality star looks gorgeous and complemented her look saying: "Global warming at its finest! You look amazing! Happy holidays!"
"You are an amazing, independent, secure young lady," said a third one. Others couldn't help but notice the palm tree behind the cuddly couple with drizzles of snow covering its long branches. "Is that a palm tree in the background," a curious Instagram user asked. "So weird to see snow and a palm tree and snow in the same picture," added another. "The palm tree in the background with snow covering the ground," exclaimed a fan.
"That is an awesome picture with the palm tree and snow...God makes some amazing beauty," said a fourth one while another person highlighted the fact that Loredo, Texas saw snowfall after 13 years. "It snowed last night here in Laredo Texas. It's been 13 years that we haven't seen snow," it added.
Since her wedding last year, Jinger has become famous among her followers as the rebel Duggar child as she continues to defy many rules set up by her parents. Apart from wearing pants, she did not hesitate to talk about her and Jeremy's sexual urges while filming at a restaurant during their honeymoon in Australia. The couple's touchy-feely gestures made the chef so uncomfortable that she was forced to ask them to control their emotions.
Unlike her other sisters, Jill, Jess and Joy-Anna, Jinger is yet to get pregnant. The Duggars do not believe in birth control measures and as a result all the daughters got pregnant within the first month of their wedding. But the Counting On reality star has been married since one year and continues to enjoy her romantic life with husband Jeremy.