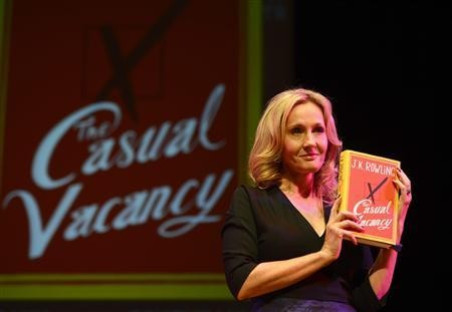 Her successful Harry Potter franchise made her millions and JK Rowling's first adult novel could be set to do the same.
The Casual Vacancy has gone straight to the top of the fiction charts within days of its release.
The book, which follows villagers in an apparently tight community as they deal with the unexplained death of a neighbour, sold 124,603 copies in its first three days.
That is 10 times more than the No 2 book, Bernard Cornwell's 1356, which sold 12,231 copies over the same period.
According to figures compiled by book data provider, Nielsen BookScan, Casual Vacancy also sold 20 times more than the new Jackie Collins novel, The Power Trip.
Rowling's novel is already the 15th bestselling book of 2012 and the fastest selling hardback novel since Dan Brown's The Lost Symbol, which sold more than 550,000 copies in its first week in 2009.
Despite receiving mixed reviews since going on sale, readers do not seem to have been put off buying the book.
"By way of comparison, the latest phenomenon in the book trade, Fifty Shades of Grey, sold 664,000 in its highest week of sales so far," said David Walter from Nielsen BookScan.
"JK Rowling's UK sales to date are of a value in excess of £238m, making her by far the highest-selling author in the UK since our records began."
But while the figures are impressive the book has yet to touch the blockbuster sales of Rowling's Harry Potter titles.
When the author's seventh and final instalment, Harry Potter and the Deathly Hallows, was published in 2007 it sold more than 2.6 million copies in the UK its first week.