Jeremy Corbyn led tributes from across the British political divide to the late Jo Cox, as the Houses of Parliament were recalled on 20 June to remember the murdered MP.
The Labour leader said the married mother of two had shown "extraordinary compassion" in her work for humanitarian charity Oxfam and as the MP for Batley and Spen, a West Yorkshire seat she was elected to at the 2015 general election.
"Her community and the whole country has been united in grief and united in rejecting the well of hatred that killed her in what increasingly appears to have been an act of extreme political violence," Corbyn added.
The House of Commons, usually the scene of verbal jousting, also fell silent as Rachel Reeves made a tearful tribute to her 41-year-old friend.
"Jo was struck down much too soon so it now falls on all of us shoulders to carry on Jo's work. To combat and guard against hatred, intolerance and injustice," the Labour MP said. "To serve others with dignity and with love and that is the best way we can remember Jo and everything she stood for." She added: "Batley and Spen will go on to elect a new MP but no one can replace a mother."
David Cameron, just one of the MPs wearing white rose in honour of Cox's Yorkshire roots, said she "epitomised the best of humanity". "May we and the generation of members that follow us in this House honour her memory, proving the democracy she stood for is unbreakable," the prime minister declared.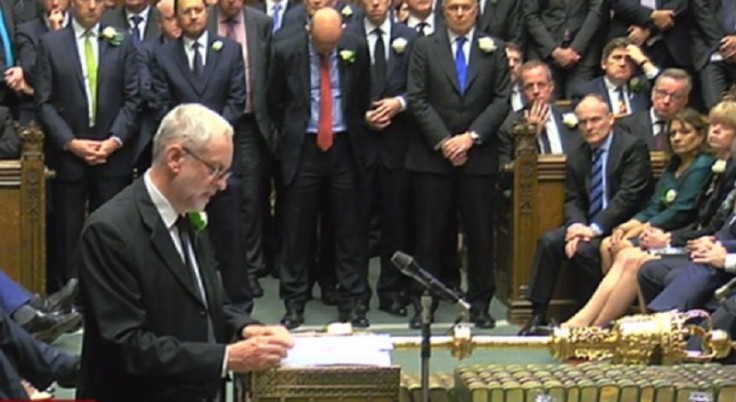 Labour MP Stephen Kinnock, who shared an office with Cox in the Commons, said she would not have approved of controversial Ukip poster unveiled on the same day as her 16 June killing. Kinnock, a Remain campaigner, said Cox would have "responded with outrage" to the 'Breaking Point' advertisement because it "demonised" refugees.
He added: "The murder of Jo Cox was national tragedy, but we must also remember the unspeakable personal suffering that it has caused. Jo's family have lost a loving mother, wife, daughter and sister. The fearless Jo Cox never stopped fighting for what is right."
To end the tributes, MPs on both benches in the Commons stood and clapped in memory of Cox as the Speaker adjourned the lower chamber.