An anti-migration poster unveiled by Ukip's Nigel Farage which was criticised for resembling Nazi propaganda has been referred to by police over allegations it incites racial hatred. The poster runs with the caption: "Breaking Point. The EU has failed us" and features a photo of a queue of migrants taken on the Croatia/Slovenia boarder in 2015.
The poster, which blocks out the only prominent white person with a block of text, was revealed by Ukip leader and key Brexit campaigner Nigel Farage in Westminster a week before the EU Referendum voting begins on 23 June.
It was condemned as "disgusting" by MPs such as Scotland's First Minister Nicolas Sturgeon, with Farage accused of engaging in "politics of the gutter" by Green party MP Caroline Lucas. On social media, users also compared the poster to propaganda used by the Nazis to describe migrants using stills from a BBC documentary.
The "racist" poster has now been referred to police by the Unison union for allegations it breaches UK race laws. Unison general secretary Dave Prentis said: "This is scaremongering in its most extreme and vile form. Leave campaigners have descended into the gutter with their latest attempt to frighten working people into voting to leave the EU.
"To pretend that migration to the UK is only about people who are not white is to peddle the racism that has no place in a modern caring society. That's why Unison has complained about this blatant attempt to incite racial hatred and breach UK race laws."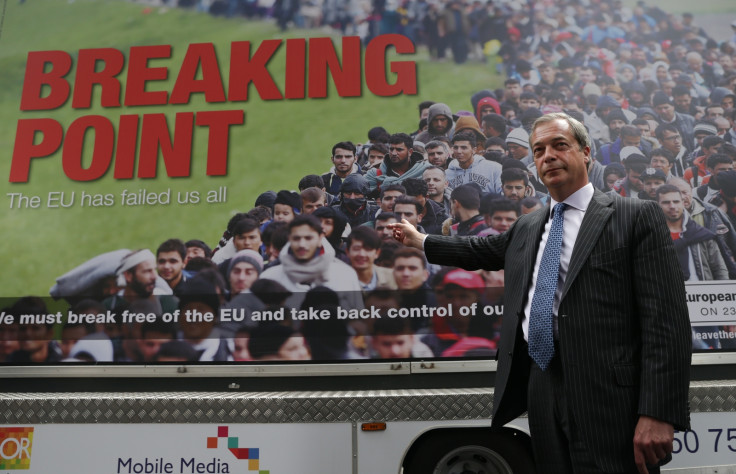 When asked about the issues of using images of people fleeing war zones for their poster, Farage said: "This is a photograph, an accurate, un-doctored photograph, taken on 15 October last year following Angela Merkel's call in the summer and, frankly, if you believe, as I have always believed, that we should open our hearts to genuine refugees, that's one thing.
"But, frankly, as you can see from this picture, most of the people coming are young males and, yes, they may be coming from countries that are not in a very happy state, they may be coming from places that are poorer than us, but the EU has made a fundamental error that risks the security of everybody."
When told the people in the poster were refuges, Farage added: "You don't know that – they are coming from all over the world. If you get back to the Geneva Convention definition, you will find very few people that came into Europe last year would actually qualify as genuine refugees."
Ukip dismissed the claims the poster resembled Nazi propoganda, adding people making the comparison should "remember Godwin's law", an internet adage which states all discussions will eventually end with someone mentioning Hitler or the Nazis.
IBTimes UK are awaiting comment from the Metropolitan Police.