A host of Hollywood stars, including Jodie Foster, George Clooney and Michael J Fox, have led anti-Trump demonstrations before the Oscars on Sunday (26 February).
The United Voices rally, staged in place of the usual pre-Oscars party by Hollywood's United Talent Agency, continued the unprecedented politicisation of the arts industry against US President Donald Trump.
Two-time Oscar winner Foster, a usually private figure, led the event, saying this year required a "different" pro-active approach given the rise of right-wing populism, arguing it was "time to show up" to protect American freedoms.
Back To The Future Star Fox also joined the actor-director to voice his support for a united, outward looking nation.
Speaking in light of Donald Trump's hard-line immigration policies, including the "extreme vetting" executive order, which was initially overturned by Seattle District Court Judge James L. Robart and later upheld by a panel of appeals court judges, never reaching the Supreme Court, Fox told the Beverly Hills rally: "I believe that when so much good has been done unto you, it's natural to feel a sense of civic or even global responsibility.
"I consider myself an optimist and that can be a tall order at times for me personally, and more as I see a growing intolerance and lack of compassion and empathy in the world around us."
The Canadian-born star, now a US citizen, showed little sign of Parkinson's Disease he has battled since 1991, report the BBC.
Ending on a positive note, he reiterated "the power of the arts to change not just in our hearts but the world".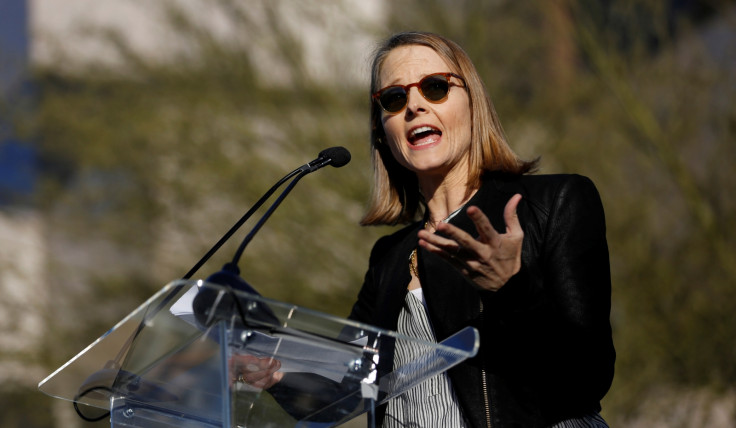 Foster also took the opportunity to highlight the wider role of the film industry in fighting prejudice and bigotry.
Describing the event as "exactly the way to celebrate our industry, to celebrate all of you, to celebrate artistic expression and our commitment to humanities on screen and off", she told the crowd: "When we get to celebrate excellence in film, like we're doing today, like we're doing this week, we can't forget that this industry is in the business of humanism."
Hollywood has keenly aligned itself against Trump, and, in anticipation of the politically charged Academy Awards on Sunday, Trump lashed out at the protest on Twitter.
"Maybe the millions of people who voted to MAKE AMERICA GREAT AGAIN should have their own rally. It would be the biggest of them all!" he posted.
Trump previously attacked Meryl Streep when she used her Golden Globes acceptance speech to lambast his policies.
At a separate event on Friday (24 February) George Clooney used an appearance at the César Awards – France's national film awards – to speak out against the political climate.
Taking the stage after accepting the César d'honneur for his services to film, the 55-year-old stated: "As we stand here today the world is going through some pretty momentous changes, not all for the best. As citizens of the world, we're going to have to work harder and harder not to let hate win.
"Love trumps hate, courage trumps fear and always right trumps wrongs."