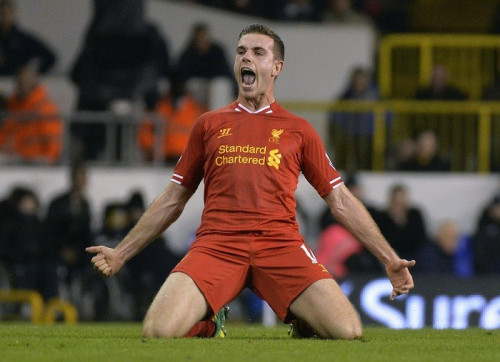 Liverpool legend John Barnes has claimed that the club are lucky they kept hold of Jordan Henderson with the England international coming into his best form yet for the side this season.
Henderson made the move from Sunderland to the Reds in the summer of 2011 for a fee believed to be in the region of £20m. He had a difficult first season on Merseyside leading many to claim he wasn't worth the money.
But despite Brendan Rodgers looking like he wanted to offload Henderson in his first season in charge of Liverpool the midfielder has turned out to be an integral part of the squad who are now seriously pushing for a top four finish.
And Barnes believes that on the back of Henderson's performances this season he would expect the side to finish in contention for Champions League football.
"Jordan Henderson for me has been a revelation so the future looks good for Liverpool," he told Sky Sports.
"But I would be despondent if all of a sudden they did not finish in the top four."
Barnes also reserved special praise for Luis Suarez who is going from strength to strength with the side yet again.
After missing the beginning the season as he sat out the remainder of a 10 match suspension the Uruguay international is now the top scorer in the Premier League. But Barnes believes it's a testament to the strength within the squad that the club are capable of managing in the striker's absence.
"More pleasing for me is that even when he has not played the team still looks competent," the former Red explained.
"We are not just relying on him, we are playing in a way that suits the players which means that they can play consistently well and create chances."
But Barnes stopped short of calling Suarez a Liverpool legend insisting he must stay with the club for a while yet before he'll be considered in the same breath as the likes of Steven Gerrard.
"He is a fantastic player and we would like to see him stay there for a long period of time," Barnes said.
"When we talk about legendary status he has the ability to do it but then Torres showed it for the first two years and he's not there anymore.
"You have to be there for a particular amount of time to be considered a legend for any club, but I would love to see him stay and do it."