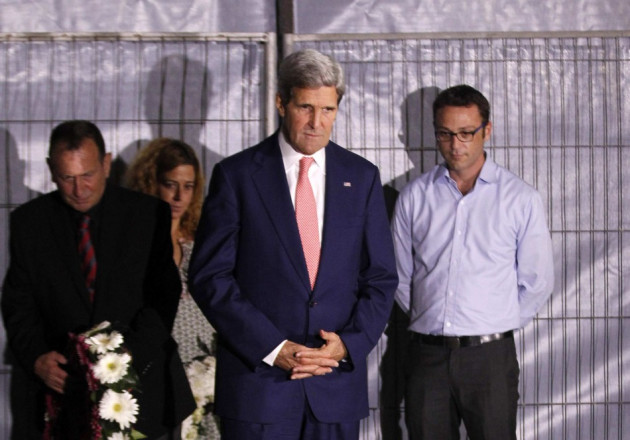 US secretary of state John Kerry has arrived in Tel Aviv to encourage ongoing peace negotiations between Israel and Palestine amid lingering pessimism on both sides over the talks.
Kerry will meet Israeli prime minister Benjamin Netanyahu and Palestinian Authority president Mahmoud Abbas separately during his trip.
Shortly after his arrival, Kerry participated in a wreath-laying ceremony marking the anniversary of former Israeli prime minister Yitzhak Rabin's assassination.
"I can promise you that America will stand by the side of Israel every step of the way. It should rededicate every [effort] to the possibility of a just, appropriate and fair peace, which protects the security of Israel, guarantees that Israel's security will be protected," Kerry said during the ceremony.
The visiting US official will first meet Netanyahu and travel to Bethlehem to hold talks with Abbas. Following his discussions with the Palestinian authorities, Kerry will once again meet the Israeli prime minister, and will also meet Israeli President Shimon Peres.
Prior to Kerry's arrival, chief peace negotiators from both sides held talks over the situation.
The US is likely to intervene and offer mediation in the progressing negotiations if the discussions fail to yield desired results in the coming months.
Palestinian authorities have expressed concerns over the latest settlement approval in West Bank and Jerusalem. The proposal has been approved by Israel alongside the release of 26 Palestinian prisoners, sending mixed signals about the matter.
"What we need now is to hear a clear American position to oblige Israel to accept the needs of peace and to stop this dangerous threat to the process," said Ahmad Assad, spokesperson of the Fatah party.
As well as the Palestine situation, Israel is keen to discuss the latest developments in Iranian nuclear activities with Kerry.