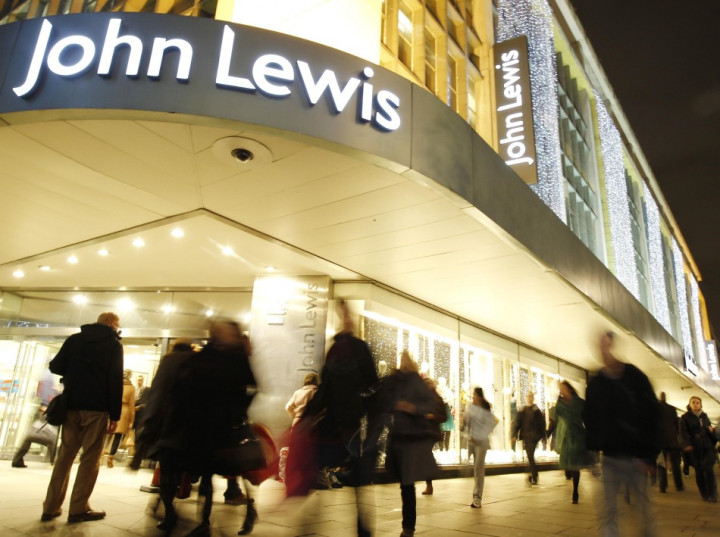 John Lewis, Britain's biggest department store chain, continued to buck the dismal retail market trend with yet another set of double-digit weekly sales growth.
Rainy weather, imminent Diamond Jubilee celebrations, and internet shoppers all helped boost John Lewis sales in the week to 19 May, despite a drastic monthly decline in overall UK retail sales.
"John Lewis enjoyed another solid week, comfortably up on last year," Simon Russell, director of retail operations development at John Lewis, said in a statement.
"Comparisons are as tricky as ever with the weather and the tail end of the digital switchover on our side while at the same time we were up against some strong trade thanks to some active price matching of a competitor's sale last year."
Overall sales for John Lewis were up 11.6 percent to £59.7m when compared with the same week the year before.
John Lewis online saw sales growth of 37.5 percent.
There was also a rush for Jubilee-theme items, with the Queen's coronation anniversary ahead in early June.
"Bunting, bowler hats and tea towels were the best sellers and will adorn the most stylish street parties," Russell said.
Wet weather has led to a surge in demand for outdoor clothing rather than the summer range products, as fashion sales managed to grow 2 percent despite difficult comparative measures and the rain.
"The first signs of summer appearing, combined with the run-up to half term and the extended bank holiday weekend, should give us a much needed spike in demand for summer fashion and outdoor assortments," Russell said.
UK retail sales plummet
Although John Lewis has seen success in recent months, the general trading environment is dreary, with the eurozone crisis and government austerity helping to push the UK back into recession.
As a result UK retail sales plunged in April by 2.3 percent month-on-month.
This was the sharpest fall in two years, made more acute by a late surge in petrol buying in March after panic spread when the threat of a tanker driver strike loomed, but never materialised.
Britain's economy contracted by 0.3 percent in the first three months of 2012, according to downwardly-revised Office for National Statistics (ONS) figures, meaning the country is in a deeper recession than was first thought.
It was driven by a drastic fall in output from the construction sector and follows a 0.3 percent GDP contraction in the last quarter of 2011.
While the Diamond Jubilee is boosting John Lewis sales, the Bank of England said the two days off in June - one a bank holiday moved from May and one a public holiday for the Diamond Jubilee itself - will cause a -0.5 percent drag on the economy, making it likely that Britain will be in recession for a third consecutive quarter.
The Bank also revised down its UK growth forecast for 2012 from to 0.8 percent from 1.5 percent.