Jolla, the start-up built after Nokia abandoned the MeeGo mobile operating system in favour of Windows Phone, has shown off its Sailfish OS in public for the first time.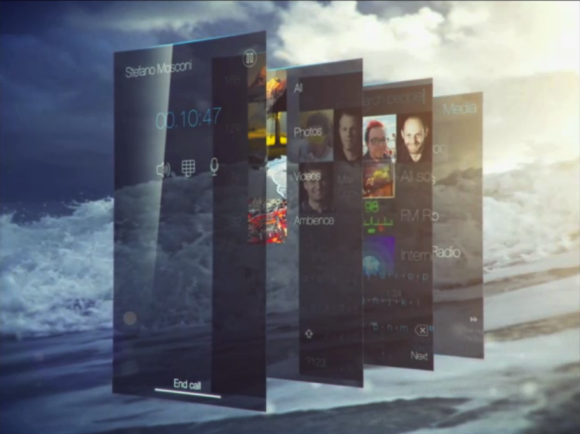 With an emphasis on easy multitasking, the Sailfish operating system works in a similar way to the upcoming BlackBerry 10 OS, in that open apps, menus and more information can be accessed with a single swipe from the home screen.
With the tagline "Unlike the Ordinary", Jolla showed off Sailfish for the first time in public at the Slush technology conference in Finland and said it will be available in 2013, but did not give a more accurate release window.
As for the Finnish company's business plan, it will launch own-brand phones, as well as 'Sailfish by Jolla' phones, which will be manufactured by third parties, thus following Android's lead, and making the software available to other phone makers.
Jolla says it has the freedom of having no history, legacy or market position, so it can make a fresh start in the smartphone sector.
Sailfish is about contribution - the company claims there are no technology wars with its product, no 'we must have this standard or that' - instead, it is open to working with various business models, to share, and to not develop a restrictive walled-garden ecosystem.
The company spoke at length about the Chinese market, which has seen phenomenal growth in the smartphone market over recent years, and the company has spent hundreds of hours talking with Chinese smartphone suppliers.
In a question and answer section on the software development kit (SDK) website for Sailfish, Jolla says that "many Android applications will run on Jolla devices unchanged...if you want to take advantage of all UI and other features of Sailfish OS and make your applications fastm you can port your applications to native QT/QML."
More than just a smartphone OS
Jolla wants its operating system to appear on much more than just smartphones, with the Finnish company hoping to target tablets, smart TVs and other devices too, although there were no demonstrations to show how Sailfish would run on other hardware.
Earlier today, Jolla announced that it has partnered with the Finnish mobile operator DNA, which has said it plans to sell and help market smartphones from Jolla as soon as they are released in the country.
DNA has not revealed any specifics about the partnership, but the deal represents what could be the first of many mobile carriers to join up with Jolla.
Jolla vice president of sales, Sami Pienimäki, said: "We target to have a network of partners around Sailfish during the coming year. We are partnering up with operators, for example, to benefit from their solid knowhow in retail and distribution. As a forerunning brand in Finland, DNA is a great partner for Jolla."
Tile-based
Much like new Windows Phone 8 operating system, Jolla Sailfish is a tile-based user interface, with smaller icons at the foot of the screen for important apps like the phone, email and web browser, while the tiles of your open apps take up most of the page.
Unlocking the phone is done by swiping the screen up - just like Windows Phone 8 and BB10 - and on that lock screen there are notifications and the current time; swiping up just an inch or so reveals the phone's battery status and signal strength if that's all you need to see.
Jolla claims Sailfish will offer true multitasking; tap an app to open, and push it out of the way with a swipe to the side, and while it is hidden from view, the app is still running in the background.
Open apps can be controlled by their tiles on the home screen - so if you're listening to music you can control playback by tapping or swiping on its home screen tile, which saves you needing to fully open the app.
Think of this as controlling Windows Phone 8 apps by interacting with their tiles instead of opening them.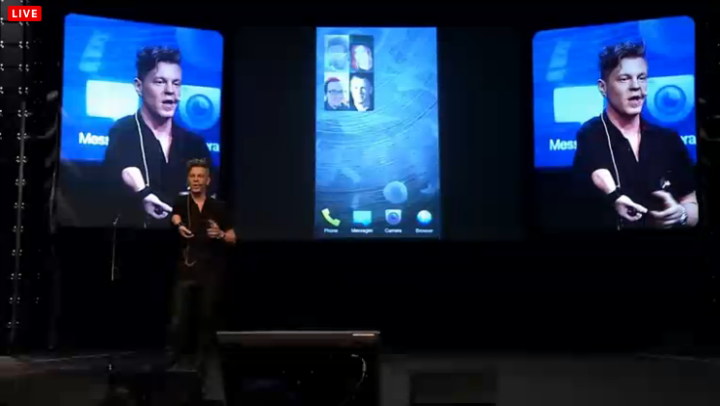 Apps can be left open in the background all of the time, although the demonstration only showed space for four app tiles on the homescreen - we would imaging that more can be added, but the demo was very short and didn't show off much in the way of customisation.
To help make the Sailfish user interface feel natural and less intrusive, menus that come down over the screen change colour based on what you're looking at - look at a photo of the sky, select the social media sharing menu and it will appear with a blue background, for example.