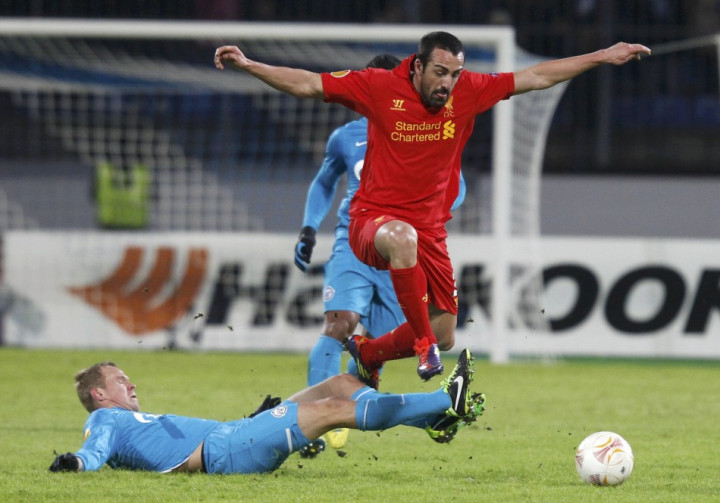 Liverpool left-back Jose Enrique hopes to regain a place in Brendan Rodgers' line-up after a long-term injury sidelined him for much of the last campaign.
The Spaniard made his first Premier League appearance since last November during the 3-0 victory over Tottenham on Sunday, after coming off the bench in the second half.
"After so long out it was great to be back playing. The only problem was that once I got warm the game was finished! I know I have to go little by little and be patient," Enrique told Liverpool's official website.
Even though Enrique is still cautious about his fitness, he is not scared about the fresh competition he faces for the left-back role following the arrival of Alberto Moreno, who excelled against Spurs and scored an amazing goal.
"Moreno did really well and scored an amazing goal. For me the best thing about it was the pressing to win the ball back. That was half of the goal. How he finished was unbelievable.
"The most important thing is that we are a team. This is a team sport and we all have to fight to make this team better. Hopefully we can do even better than last season.
"I will have my chances. I know I have the confidence of the manager so I'm happy about that."
Meanwhile, Enrique has praised youngster Raheem Sterling and tipped him to be one of the top scorers in the squad in the new campaign following the departure of Luis Suarez.
"Raheem is one of the best young players in the world for sure.He's doing unbelievably well for us. I think this season he's going to score 15 goals or more. We've already told him that. He's going to make a massive impact in this team.
"He's still young but you can see over the past two years just how much he has improved. Everyone was talking before about how he doesn't make many assists or score many goals but this season he's got two already. Now he's adding goals to his game he's a massive player for us."
When asked about star signing Mario Balotelli, Enrique said: "Everyone knows that Mario has all the qualities to be one of the best strikers in the world,
"He knows this is an amazing chance for him at play for Liverpool and I think he's going to do really well. Hopefully what we saw on the pitch at Tottenham is what he'll be like all season. He can make a real impact."