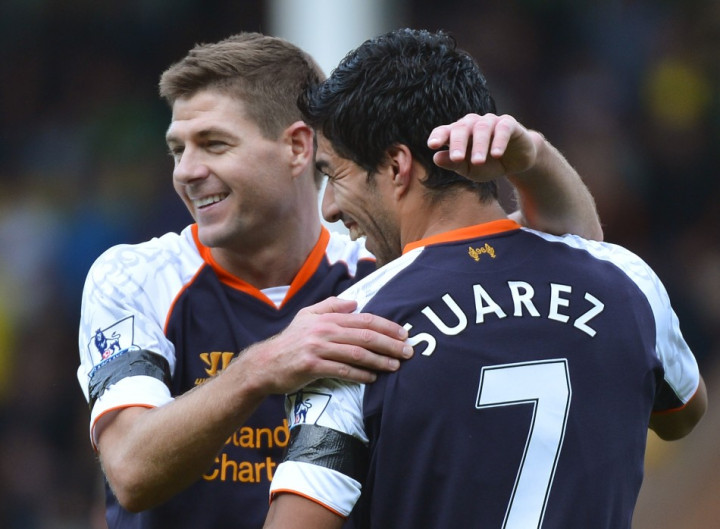 Steven Gerrard says he knew Luis Suarez was going to leave Liverpool after he was involved in a biting incident in the summer World Cup.
The Uruguayan international was found digging his teeth into Italy defender Giorgio Chiellini's shoulders. The 27-year-old was handed a four-month ban for his behaviour as it was not the first time the striker has misbehaved on the pitch.
After the summer tournament in Brazil, Suarez left the Merseyside club and completed his switch to Barcelona. The former England midfielder admitted that he knew that Suarez was going to engineer a move out of Anfield after the biting incident.
"I thought he was going to stay, I thought we'd have got another year out of him," Gerrard stressed, as reported by Sky Sports.
"I was actually already on the floor when I saw the bite because we knew we were going out. It was a double blow, knowing you're going out of the World Cup and knowing you're going to lose your best player."
"I knew there was no way back for him then and I knew he was going to engineer a way out," the Liverpool skipper added.
The former Ajax man's departure has seen the Reds bag £75m from the transfer. The fee received from the sale of the striker has helped Brendan Rodgers use those funds in bringing new faces to Anfield.
Liverpool signed striker Mario Balotelli from AC Milan. The Italian international will try to fill the void left by Suarez's exit and has impressed during his time with his former club, Manchester City.
Gerrard remains hopeful that Balotelli's move to Anfield will help the player as he claims the Italian attacker has a point to prove.
"It's an interesting one because he's got a point to prove. Similar to Sturridge, people are waiting to see whether he'll take to Liverpool, whether Liverpool is going to be the right place for him," the midfielder said.
"He's certainly got the talent and ability. I've trained with him two or three times and he's got a great touch, he's quick, he's got the movement – he's got everything in the bag."
"We'll have to wait and see if he behaves himself and performs – that's what everyone is waiting for and I'm no different," Gerrard concluded.