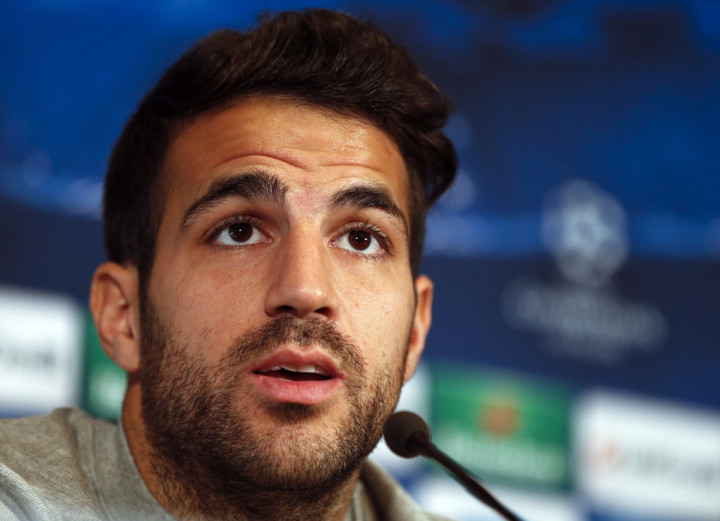 Chelsea manager Jose Mourinho has confirmed that he is interested in signing Manchester United midfield target Cesc Fabregas this summer.
The Barcelona midfielder has long been linked with a move to the Premier League club, with United and the Blues set to battle it out for his signature. However, Chelsea are reportedly leading the race in landing the Spain international after his former club Arsenal withdrew their interest.
Fabregas's teammate Gerard Pique whispered to Spain boss Vicente del Bosque that the midfielder was leaving Barcelona. The former Real Madrid manager believes the Spaniard is set to return to the England in the summer transfer window.
"I'm interested to look at his situation. I think he is eager to leave Barcelona and very motivated by the idea of returning to England. I think that is pretty clear," Mourinho explained.
Despite Mourinho confirming his interest, the Portuguese tactician is unsure if Fabregas will join him at Stamford Bridge next season. The Chelsea boss wants to monitor the situation as United are also in the frame for securing his services.
"After that, whether he signs for us or someone else is not a question for today, tomorrow or before the World Cup. We are interested to see how the situation evolves," the former Real manager stressed.
Meanwhile, former Barcelona youth team coach Albert Benaiges has urged the club to retain Fabregas as he believes the midfielder will shine under the Catalan club's new manager Luis Enrique.
"With Luis Enrique, Barça will go back to being the team we know and Cesc fits into that perfectly. He can set up and score goals," Benaiges told Marca.
"He hasn't made him train in the most effective way to make him shine, but I think he has shown he can do well both here and in England. He needs a run of games. This year, the team's style of play hasn't been good for him or for anyone else."
"I don't know much about the club's financial situation. But Cesc could be a very important player for Luis Enrique, as the style of play suits him perfectly. Gerardo Martino's method was not enough and did not bring out the best in him. Barça need a lot more."