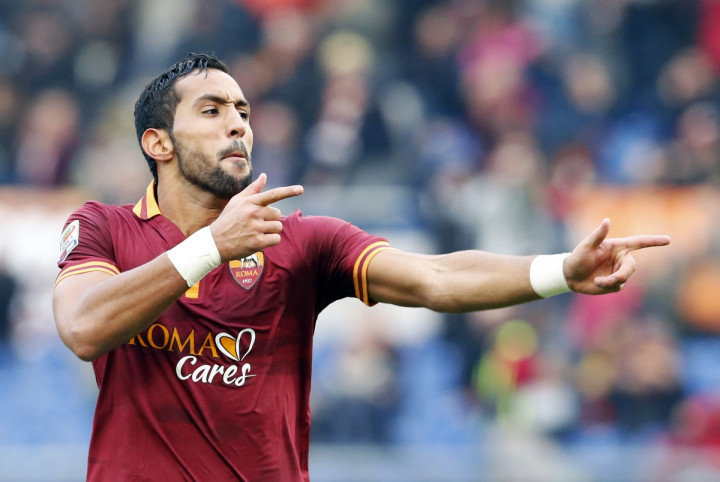 Jose Mourinho insists Chelsea are not interested in a move for Roma centre half Mhedi Benatia this summer.
The 26-year-old Benatia remains one of the most sought after defensive options amongst Europe's elite with the Blues, Manchester City and Manchester United all credited with interest in the Moroccan.
Manuel Pellegrini's interest in the defender was brought to an end following the arrival of Frenchman Eliaquim Mangala at the Etihad, leaving Chelsea poised to move forward with a bid of €37.5m, Gazzetta Dello Sport reported this week.
However, Mourinho insists his current defensive options will provide him with ample cover going into the 2014/15 season and has no need for further additions.
When asked of Chelsea's reported bid for Benatia, Mourinho said; "We are not interested. We have John (Terry), (Gary) Cahill, (Branislav Ivanovic, (Kurt) Zouma," Gazzetta TV report. "We want (Andreas) Christensen, step by step, training with us, every day plaguing a few minutes with it is possible, playing with the Under-21's and training with us a first team squad member. We are fine."
Chelsea's finely balanced home grown player quota suggests the club are unlikely to pursue another foreign player. In order to comply with Premier League and Champions League rules the club must register eight home grown players in their squad and can only name 17 foreigners, with 18 currently in the Blues first team squad.
Benatia, who will play an integral role in Roma's Serie A title charge this season, would reportedly consider offers to leave the Estadio Olimpico this summer, but the Giallorossi have firmly refused to entertain the idea of the player leaving.
"Benatia? I don't know if there was a communication problem, but I want to make it clear that he has never been for sale, we have never received offers nor are we entering into negotiations," Roma president James Pallotta said at the end of July.
"Mehdi is our player and he will be for this season, he is very important for us on and off the field."