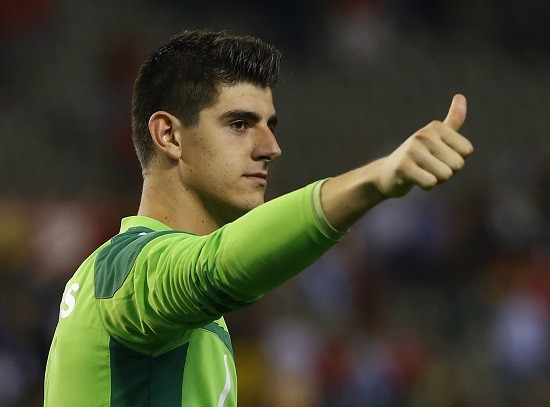 Chelsea manager Jose Mourinho has lavished praise on Thibaut Courtois and Peter Cech, claiming that the Blues would be invincible if they would be able to play with both goalkeepers in the same starting line-up.
The Belgium international returned to the number one role during the Champions League last 16 first leg 1-1 draw against Paris Saint Germain on Tuesday 17 February after being replaced by Peter Cech in their last Premier League game against Everton.
While Cech played a crucial role in the 1-0 victory against the Toffees by denying striker Romelu Lukaku two clear chances to score, Courtois responded with an impressive performance on Tuesday to help his side secure an important draw.
Mourinho has praised his two stoppers for dealing with the situation since Courtois returned to Stamford Bridge this summer after a successful three season loan spell at Atletico Madrid.
"If football was nine outfield players plus two goalkeepers we would give no other team a chance. We would be phenomenal because they are both phenomenal," Mourinho told the club's official website.
Meanwhile, Mourinho also hailed the importance of Ivanovic in his squad after the Serbian defender scored another crucial goal during the game against PSG.
Ivanovic has indeed already scored five goals this season, including the winner in the League Cup semi-final against Liverpool and the opener for the Blues in Paris.
"It's good to have the feeling in a team that you have two or three players that are not attacking players, or players you would expect to score, but they can score a goal. Iva has that on big occasions. It's like he chooses the moment; to win against Liverpool, here tonight, the Europa League final," Mourinho said.