Jose Mourinho said Manchester United only had themselves to blame after they were held to a 1-1 draw by 10-man Bournemouth at Old Trafford on 4 March.
Marcos Rojo's first Premier League goal gave the home side the lead midway through the first half before Josh King scored from the penalty spot to level proceedings before the break.
United were handed a major boost after Bournemouth captain Andrew Surman was sent off at the stroke of half-time, but the Red Devils could not make their numerical advantage count despite having 20 shots on goal.
Mourinho insisted that United would have won the game comfortably if they had been more clinical in front of the goal.
"What happened was that we played phenomenal in the first half and should have been winning 3-0 or 4-0 – then it ended up 1-1," he was quoted as saying by ESPN.
"Who can I blame? Ourselves. Nobody else. We missed big chances.
"In the second half we played different team with a man less. I understand their need for one point in the survival battle and they just defended to make it difficult for us.
"I understand that, and on top of that the goalkeeper was phenomenal.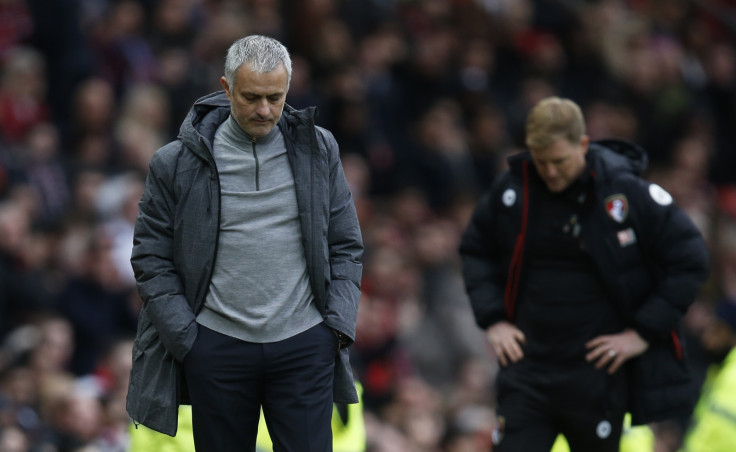 "Sometimes it is easier, sometimes it is more difficult [to play against 10 men]. If we score a second goal at start of the second half then it is different and becomes easier.
"They did what teams normally do when teams have 10 men. I'm not blaming them for that."
Mourinho refused to comment on the incidents between Zlatan Ibrahimovic and Tyrone Mings leading up to Surman's red card, only saying that referee Kevin Friend got the big decisions "right".
Mings appeared to stamp on Ibrahimovic's head late in the first half before the Swede elbowed the Bournemouth centre-back during a corner.
Surman shoved Ibrahimovic to the ground in the aftermath of the latter incident and was shown a second yellow card by Friend.
"The referee was there. If you ask me if I'm going to be happy if Mings gets a four or five-game ban, I really don't care," Mourinho said.
"He knows what he did better than anyone, better than the referee the intention or the emotion of the moment."