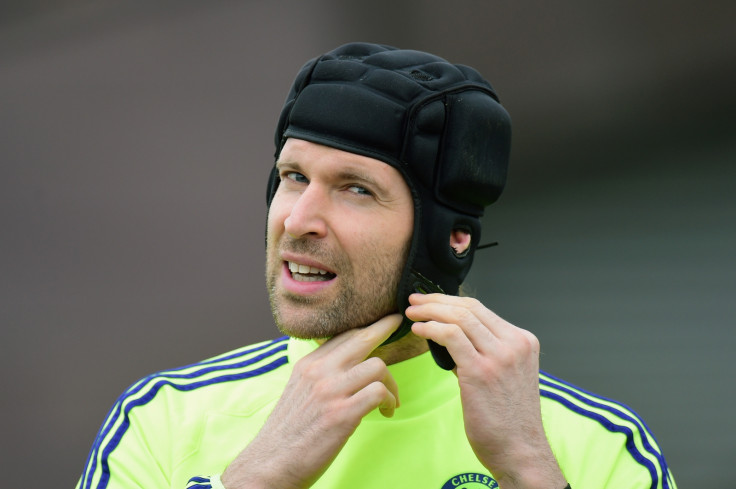 Chelsea manager Jose Mourinho has claimed he wants Petr Cech to stay at Stamford Bridge next season despite his agent, Viktor Kolar, recently saying the club have given permission to negotiate a summer exit.
Having lost the number one role to Thibaut Courtois this season, the 32-year-old recently claimed he doesn't "want to lose time on the bench" amid speculation of a summer move to either Arsenal or Liverpool.
Earlier this week, his agent added fuel to the speculations over a summer move away by assuring the Blues have let them to hold talks with other clubs regarding an exit.
"Petr has a valid contract with his current club, however, I can confirm that we have been permitted by Chelsea to negotiate with interested parties. Petr has confirmed his interest to play regularly at a top club," the Chelsea star's agent said.
But asked about this during the press conference ahead of the game against West Bromwich Albion on 18 May, Mourinho responded: "I'm not sure it is completely true."
"The player has a contract with Chelsea and Chelsea will have an important say in the decision. I would like him to stay and that's my position. I expect [he will be here] because I'm optimistic and I'd like him to stay."
Meanwhile, Mourinho has added that he is yet to make a decision on the future of Middlesbrough loanee Patrick Bamford after some reports claimed the Blues have already offered a new deal to the young striker to commit his long-term future to the club after his impressive season under Aitor Karanka.
"I feel him as a Middlesbrough player in this moment. He has to do the best to get his club promoted. After Middlesbrough's season is finished is the time to think. He'll impress me if he scores three goals tonight," Mourinho said, with Bamford ready to for the Championship play-off semi-final second leg against Brentford following a 2-1 victory away in the first-leg.
Meanwhile, speaking about the game against West Brom, the Portuguese manager has revealed Ramires, Oscar and Kurt Zouma will miss the rest of the campaign but Diego Costa may have a chance to play.
"Ramires and Oscar's season is over. Zouma, the season is over. Petr Cech has a chance to be back for the last match. Diego Costa is selected for this game, I think he should be ready for Monday."