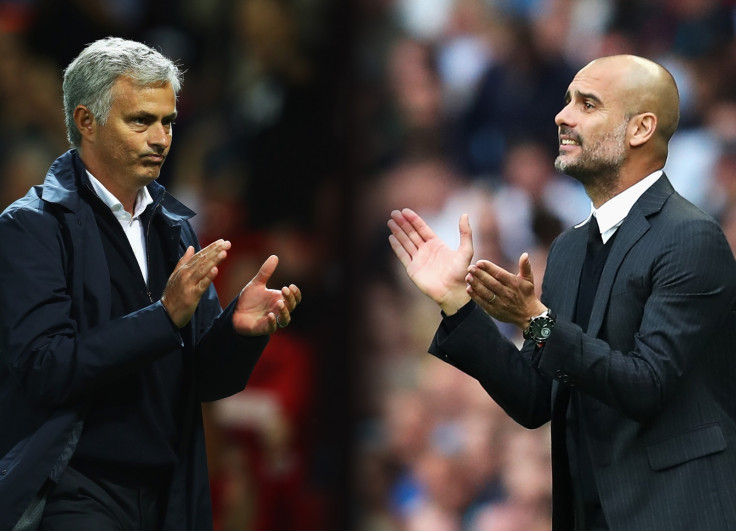 The old expression that familiarity breeds contempt certainly fits the bill when Pep Guardiola and Jose Mourinho collide. Not too long ago, their battles would routinely overshadow the biggest fixture in world football, with El Clasico becoming almost secondary to their personal battles of wits.
Having waged war in Spain, Manchester is the new battle field for modern football's all-consuming duel. Flushed with squads that have undergone £150m+ revamps this summer, Guardiola's Manchester City and Mourinho's Manchester United meet for the first time this season at Old Trafford on Saturday (10 September).
Are their fiery exchanges now a thing of the past? Or is this just going to be another chapter in a vicious, bitter battle that long ago became personal? IBTimes UK looks back on how their fractious relationship evolved.
The Barcelona years
The first meeting between the future kingpins of football management came in Catalonia in 1996. A fresh-faced Mourinho was brought in as assistant to Sir Bobby Robson, the man tasked with filling the void left by Johan Cruyff in the Barca dugout. Mourinho had worked under Robson during his spells at Porto and Sporting Lisbon and was brought in by the Englishman at the Nou Camp despite his credentials being questioned by the powers that be at the club. Guardiola, then a player in his pomp, remembers his relationship with his future rival as a healthy, if fairly insignificant one back then. "We did talk about things when we both had doubts, and we would exchange ideas, but I don't remember it as something that defined our relationship," he recalled "He was Mr Robson's assistant and I was a player."
Their names were not mentioned in the same sentence for another 10 years. In 2008, following Frank Rijkaard's departure, both men were considered for the vacant Barcelona job. Despite his acrimonious departure from Chelsea 18 months earlier, Mourinho remained one of Europe's most esteemed coaches. At the other end of the scale was Guardiola, a burgeoning star who just needed a platform. He got it at the Nou Camp at the expense of Mourinho, his first victory over a man who would in future years become his arch nemesis.
Ferran Soriano, then vice-president at Barcelona and now Manchester City's CEO, was part of that process. He recently explained in his book: "Both had great virtues and they seemed to be at opposite ends of an imaginary scale. At the one end we have an experienced coach, who was successful, with a strong personality and a controversial reputation.
"At the other end was a very talented person, who was totally familiar with the club, but without significant experience as a coach." In explaining why Mourinho was overlooked, Soriano concluded the Portuguese's "method generated media conflict almost permanently and it was also a potential source of conflict with the club."
Inter Milan rise again under Mourinho
Conflict with Barcelona would be Mourinho's forte in the years to come. After a relatively calm first clash between Mourinho's Inter Milan and Pep's Barcelona in the 2008/09 Champions League, the two sides were paired again in the semi-final of the same competition in 2010. Inter were outstanding in the first leg, dismantling the Catalans with incision on the counter. In the latter stages of the game, Dani Alves was booked for simulation despite appearing to be clearly impeded by Wesley Sneijder. After the match, Mourinho was quick to recall events at Stamford Bridge a year earlier, where Barcelona gleefully benefited from four controversial refereeing decisions that helped them progress into the final against Manchester United.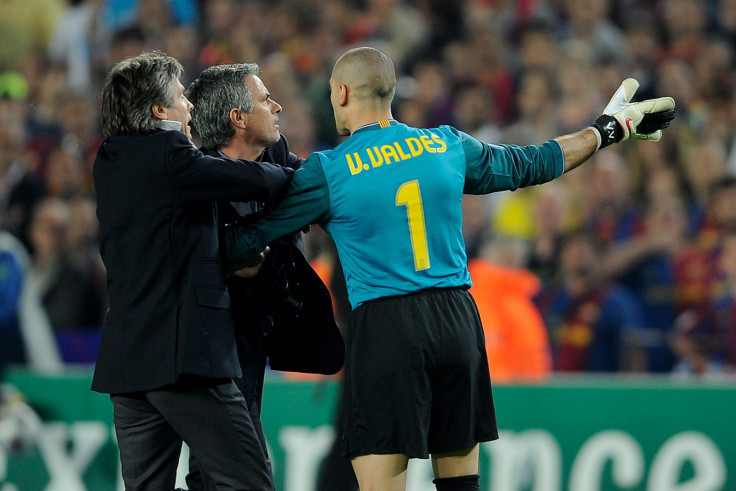 "A year ago Chelsea were crying and Barcelona were laughing with the referee," Mourinho said. "They laughed because he denied my Chelsea boys their rightful place."
Barcelona would record a 1-0 win in the return leg but Inter progressed, going onto win the competition. After the final whistle, Mourinho leapt onto the Nou Camp turf with his arms in the air with Catalan crowd baying for his blood. It was a clear act of defiance from the Portuguese who scored a major result against the club that turned their nose up to him, while at the same time delivering Inter's first final in almost 40 years.
The El Clasico years
Inevitably, Real Madrid called and a simmering rivalry was set ablaze. In Mourinho's first El Clasico in November 2010, his suffered a 5-0 defeat, a glaring blotch on his CV that still stands today as his record defeat. Six months later, in an explosive two-week period where the sides met four times, a rivalry that is combustible by nature leapt to new levels.
A 1-1 draw in the first meeting in the league kicked off a bitter fortnight, a draw that effectively secured Barcelona the league title. Real Madrid struck a telling blow straight back, however, with Mourinho guiding Los Blancos to victory in the Copa del Rey final over their arch-rivals. It ended Real's 18-year wait to lift the trophy again.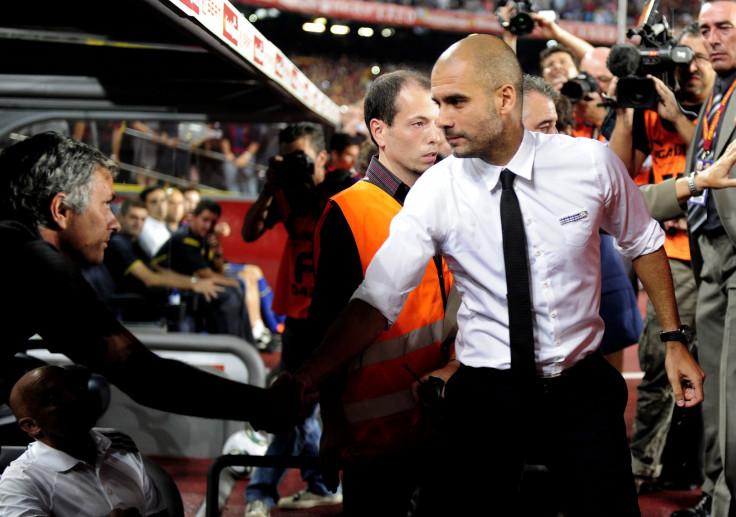 "He's the f*****g boss"
When Guardiola had the cheek to question a referee's decision in that match, Mourinho saw it as another opportunity to launch more mind games in a press conference ahead of their Champions League semi-final which followed days later. Guardiola bit and for the first-time in his short managerial career, the Catalonian exploded.
Tomorrow at 8.45, we will meet each other on the pitch," Guardiola said. "Off the pitch he has already won.

"In this room [press room], he's the f*****g chief, the f*****g man, the person who knows everything about the world and I don't want to compete with him at all. It's a type of game I'm not going to play because I don't know how.

"I won't justify my words. I congratulated Madrid for the cup that they won deservedly on the pitch and against a team that I represent and of which I feel very proud. Off the pitch, he has already won, as he has done all year. On the pitch, we'll see what happens.
The story goes that Guardiola returned to team hotel a hero, given a standing ovation from his players. Mourinho may have felt he was onto a winner; having dragged a mild-mannered Guardiola into his own arena where mind games and manipulation were par for the course. But it was Guardiola's side who held their nerve, taking a 2-0 lead in the first-leg at the Bernabeu. Pepe was sent off, Mourinho was sent off and Lionel Messi scored twice in an emphatic response from Guardiola. As it turned out, he hadn't cracked after all.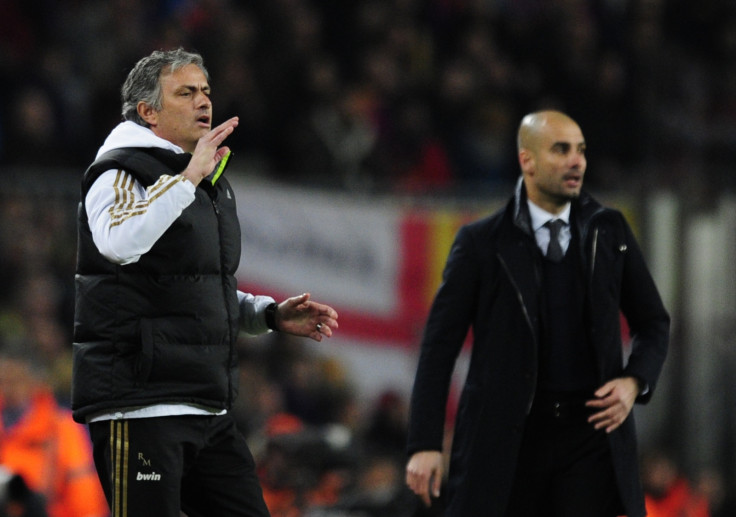 That defeat prompted an astonishing attack from Mourinho who challenged the integrity of Europe's premier club competition. "One, day, I would like Josep Guardiola to win this competition properly," he snarled.
Unsurprisingly, it saw him banned for the second leg. Rubbing further salt in those wounds, Guardiola described the 1-1 draw at the Nou Camp in the second leg as "one of the most beautiful nights I have ever lived." Barcelona went onto win another Champions League that season, beating Manchester United at Wembley.
Any hopes of a summer off cooling tensions between the two were well and truly extinguished when they met again in the Spanish Super Cup the following August. After a 2-2 draw at the Bernabeu, the second leg descended into anarchy at the Nou Camp as both sets of players and backroom teams waded in for a pitch-side melee that saw Mourinho infamously poke Guardiola's right hand man Tito Vilanova in the eye.
Six months later in December league encounter, Barcelona again upstaged their rivals in their own backyard before eliminating them from the Copa del Rey at the quarter-final stage in January. Mourinho would have the last laugh that season, however, masterminding a 2-1 win at the Nou Camp in a result that propelled Real to their first league title in four seasons. Just as sweetly perhaps, he had masterminded Barcelona's first home defeat in 55 games. At the end of the season, Pep decided it was time for a break.
The next chapter?
Mourinho's appointment at Old Trafford in July lit the fuse again. A pre-season Manchester derby in in Beijing in June momentarily provided an enticing teaser to the next instalment before the game was called off due to adverse weather conditions. In the build-up to that meeting, both managers strongly dismissed the idea of refusing to shake the others hand pre-match. It's all been rather amicable so far. Let's see how long that lasts.