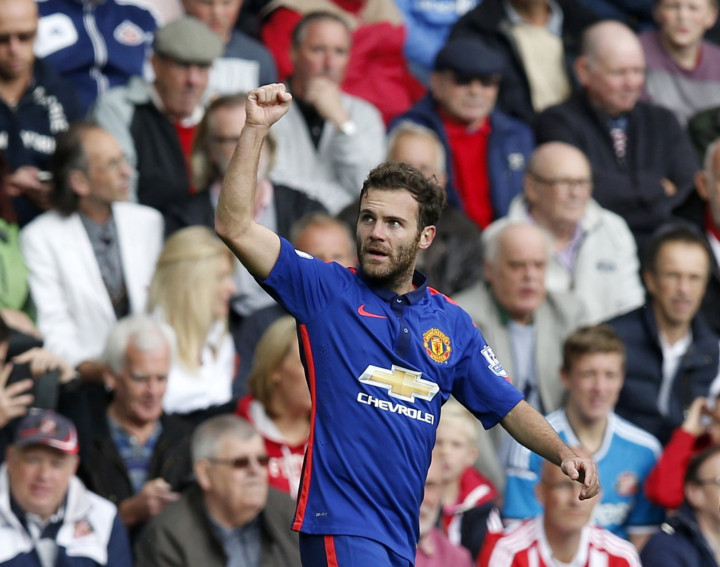 Manchester United maestro Juan Mata has claimed Louis van Gaal's side proved during the 3-0 victory over Hull City on Saturday that they have enough talent to be efficient but also enjoyable.
The Premier League giants made one of their best performances since van Gaal's summer arrival against Hull, dominating with 76% of the possession to secure the three points.
After being benched in the previous three games, Mata returned to the starting line-up alongside Marouane Fellaini and Michael Carrick – while Ander Herrera replaced injured Angel Di Maria in the 13th minute to become the Man of the Match.
"The team had a solid performance with spells of very good football. Personally, I enjoyed myself a lot on the pitch. We were better than Hull since the beginning, with several chances to score and a high percentage of ball possession that we used to play some nice football that I think our fans did like," Mata wrote in his weekly blog.
"That is the way to go! With the players we have I believe we are capable of playing football that is good and effective at the same time."
But Mata was frustrated by the fresh injuries of both Di Maria and Wayne Rooney, even though he hopes the striker will be ready to face Stoke City on Tuesday.
"Ángel's injury is a pity; we hope he gets fit again soon. As for Wayne's problems, hopefully it's nothing too serious. In this regard, we keep being really unfortunate with so many injuries," Mata added.
After a difficult start to the campaign, United have secured three consecutive victories over Crystal Palace, Arsenal, and Hull to consolidate in the top four. Mata hopes to extend the good run in the coming busy period.
"After the game, in the dressing room, the feeling was that we had played a good game to be proud of, because it had showed all our efforts in the training sessions during the week,"
"This win adds up to a good run of results. Let's hope to consolidate that in December, a very busy month that can take us closer to our goals. For a start, we play Stoke City this Tuesday, again at home."
Mata expressed his sadness after a Spaniard died on Sunday morning following a brutal street fight between rival factions ahead of the Atletico Madrid game against Deportivo de la Coruna on Sunday.
"Sadness and incredulity. I can't find the words to describe it. As any other sport, football should help to unite, not to divide. Sports are something people should have fun with,
"We should enjoy moments of happiness and big emotions; obviously we will be disappointed with the bad results but we must respect each other. That's why I don't - and I will never - understand this kind of violent episodes around football, nor in any other context."