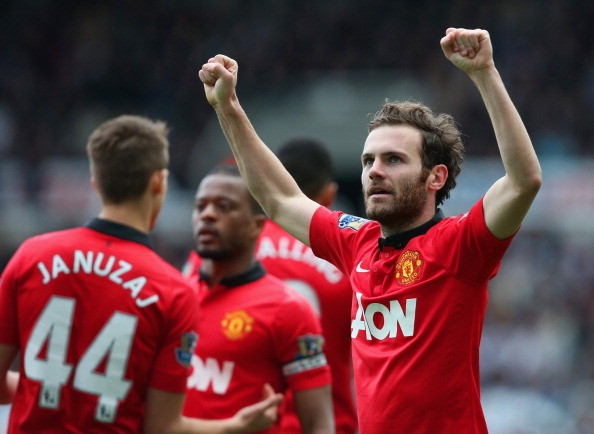 Manchester United playmaker Juan Mata have sent a message of support to his former team-mates at Chelsea following the Blues latest setback in both the Champions League and the Premier League.
Having being knocked out of Europe in the semi-final stage last week against Atletico Madrid, Jose Mourinho's side saw their domestic league title hopes almost ended following a 0-0 draw against Norwich City at Stamford Bridge on Saturday. – leaving them one point behind Manchester City –who still have one game in hand – and two points off Liverpool heading into the final weekend of the season.
And Mata has taken the opportunity to back his former team-mates in his blog on his official website.
"I also want to send a hug to my friends and former team-mates from Chelsea, for they have had a tough week," Mata wrote.
"Last week we had the Champions League semi-finals. I have to congratulate both teams from Madrid for reaching the final. I'm sure it will be a very intense game. After two consecutive seasons winning trophies in Europe, this time I will watch from home both the Champions and the Europa League finals and it makes me feel kind of envious."
The Spaniard also expressed his frustration following United's 1-0 defeat to Sunderland.
"This is another Monday that I have to talk about being unhappy with our result in the weekend... Last Saturday we didn't win, but also we didn't play the way we want to and have to. I was feeling good on the pitch, but Sunderland took their first chance to score and we weren't able to comeback in the second half," Mata said.
"The good thing is that tomorrow we play again in Old Trafford. It's our last game at home this season and we want to have a decent farewell in front of our fans, with a good game and a victory. They have given us a remarkable support throughout the last year and that shows the greatness of the club and the loyalty of our fans in the good and, in particular, the bad moments."
And Mata believes just after the season ends next weekend, United should analyse why they have struggled this season and ensure they don't repeat the same mistakes in the future.
"We will have to play one more game to finish the Premiership, the next weekend at Southampton.Then it will be time to analyse what has been a complicated season for the club, although I'm sure the future will bring again titles and happiness to our fans, because that is what they deserve."