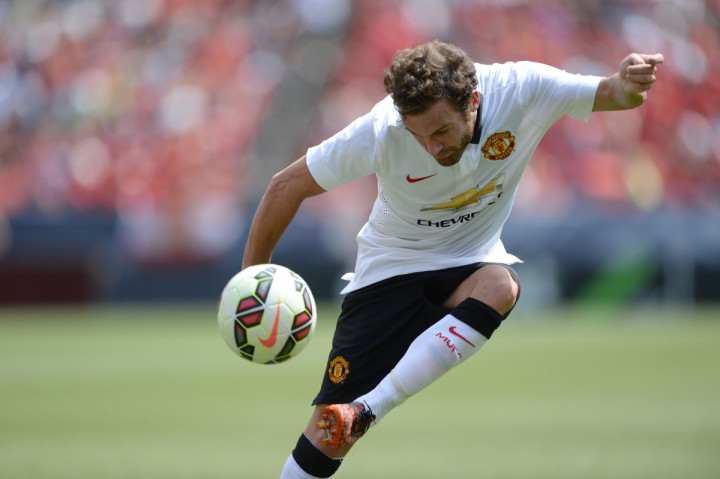 Follow IBTimes' UK live coverage of transfer deadline day here.
Juan Mata has hailed the arrivals of Angel Di Maria and Daley Blind to Manchester United, claiming they "will give a lot and will strengthen the team".
Former Real Madrid star Di Maria made an impressive debut in Louis van Gaal's side during their goalless draw against Burnley on Saturday, while Blind is expecting to undergo a medical to complete his move to Old Trafford after the club announced an agreement with Ajax.
"As you read this, many things are happening before the transfer window expires today. Here, I would like to welcome Di María and Blind to the club. I am sure these two players will give a lot to us and will strengthen the team. We already know what Angel is capable of, his ability and dribbling skills, and Daley has a great touch and is very intelligent, as he showed during the World Cup," Mata wrote in his official website.
Meanwhile, the Spaniard bid his farewell to Shinji Kagawa after the Japanese playmaker agreed to return to Borussia Dormund.
"I would also like to wish all the best to Shinji Kagawa, a fantastic player but especially a great person. It's been a pleasure to be his teammate and I'm sure both Borussia Dortmund and fans everywhere will enjoy his football again."
United are reportedly on the verge of securing the services of striker Radamel Falcao on loan after they announced the departure of Javier Hernandez to Real Madrid on a season-long loan.
Mata also expressed his disappointment regarding the start of the campaign, with United yet to win a game under Van Gaal following the Burnley game.
"We had the need to win the match but once again we just got one point. We couldn't score despite we played practically in Burnley's half after the break. I couldn't finish the game as I got a cramp in the back of my leg, but according to the medical tests it is nothing to worry about," he said.
"Of course I understand how disappointed our fans feel at the beginning of this season. The players are the first who want to change this situation and to start a good run of results, and I'm sure we will do it.
"Things are not going the way we want, but every single one of us is trying his best on the pitch, trying to put in practice the work done in the training sessions, and that is how victories shall come, sooner than later."