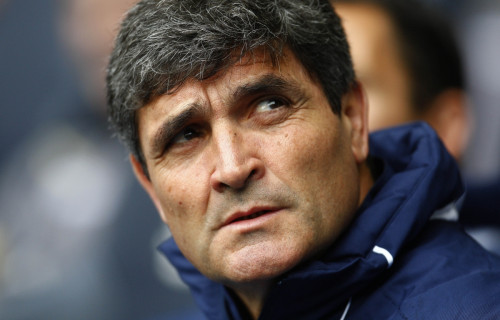 Juande Ramos has criticised the 'fat' and 'sedentary' players who failed to perform during his short tenure as Tottenham manager, ahead of Dnipro's UEFA Europa League clash with his old club next week.
"It was incredible" he said, speaking of the array of food offered on a plate to the first-team squad.
"It was like a wedding buffet. Cakes, pastries, sauces. Honestly, and I say this with no bitterness at all, there were players who were... well, fat. They were sedantary."
Ramos and his staff were astounded at the eating habits of the Tottenham squad and the Dnipro manager pulled no punches ahead of the Europa League tie in Ukraine on 20 February.
"In a sportsman the physical condition has to be perfect because you live off your body. Your food is your fuel. If I eat a cake, I'm putting in diesel; an athlete needs to be putting in super fuel.
"A sportsman who makes, say, €6m and drinks and smokes and eats. It makes no sense at all.
"There was some resistance of course — a lad who is 22, 23 years old, with cash in his pocket thinking, 'And this guy's coming here telling me what to eat', we could see that," he continued.
The former Sevilla manager then talked of the players he caught eating in fast-food restaurants around Tottenham's training complex.
"We trained out in Chigwell and there is a McDonald's and we would see them there, eating hamburgers and drinking Coca-Cola.
"I couldn't go to their houses to see what they were eating but if they were not at their ideal weight then I could keep them out of the side."
Transfer turmoil
He then turned his attention to Tottenham chairman Daniel Levy and his transfer policy, criticising it for prioritising future economic potential over immediate results.
"City sign Jesus Navas, Alvaro Negredo. They don't look at the age of the player, they look at the performances. Spurs look at the age, thinking of a future sale.
"It works well but you have to ask the question: what are you trying to achieve? Are you trying to win money or titles? The sporting side is the priority at Manchester United, Manchester City and Chelsea."
Ramos' tenure is largely remembered for Spurs' worst start to a Premier League season ever but in the season before, the Spandiard won the League Cup, Tottenham's only trophy since 1991.
He went on to predict that it will be a long time before his former club win the Premier League.
"Why aren't Spurs going to win the league? Because they are always a small step below those three or four teams. Economically it works well but in sporting terms it needs a slight tuning. What are you chasing? Titles or economic success?"
After selling star-man Dimitar Berbatov in a then-British club record £30.75m deal to Manchester United, Ramos expected Levy and sporting director Damien Comolli to bring in suitable replacements - but was left unhappy at what he was given before his sacking.
"The two strikers that I asked for were Samuel Eto'o and David Villa. But we were left with Darren Bent and Roman Pavlyuchenko.
"We started the league and we couldn't beat anyone; we couldn't score a goal under a rainbow and in the eighth week I'm gone."
For all the criticism, Ramos concedes that the upcoming fixture between his current and former clubs will be a mismatch.
"One of their players is probably our budget for the entire season," he stated.
"Spurs are a team who are clearly superior to us. We're light years away from them right now."