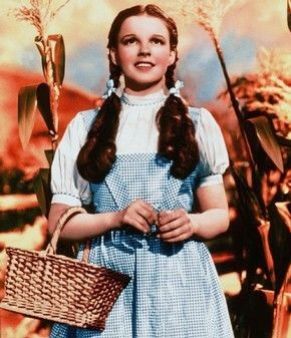 It comes with an added attraction, sweat stains around the neck but the blue gingham dress worn by the late actress Judy Garland in the 1939 movie The Wizard of Oz has been sold for a princely sum of $1.56m at an auction in New York. The pinafore, thought to be one of 10 made for Garland, was only one of two actually worn by the actress in her role as Dorothy in the movie.
The blue and white chequered pinafore was made to try and make 17-year-old Garland look younger for her role as 12-year-old Dorothy. It was part of the Bonhams auction house's Hollywood memorabilia sale held on Monday (23 November) in conjunction with the Turner Classic Movies.
The dress was sold to an unidentified buyer who had bid by telephone. The auction house said they were pleasantly surprised by the final price. "But the great pieces should bring a lot of money," Catherine Williamson, Bonhams' director of entertainment memorabilia said after the piece was sold.
It was initially estimated by the auction house to fetch between $800,000 and $1.2m. The dress was described as bearing sweat stains around the neck but in good condition. It was designed by MGM's designer, Adrian.
The same Oz dress was last sold in 2012 at an auction for $490,000 after first having been consigned and sold in 1981 by Kent Warner, an MGM costume designer.