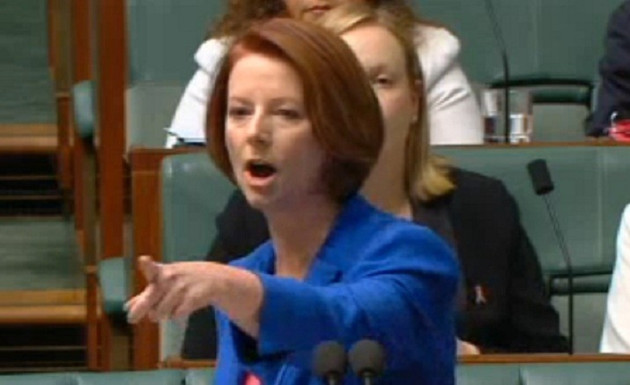 Australian prime minister Julia Gillard has launched into her political rival Tony Abbott in an extraordinary blast - branding him a sexist, a misogynist and a hypocrite in a parliamentary showdown.
The pair clashed over a motion tabled by Abbott for the speaker of parliament to be sacked over offensive text messages.
Gillard labelled Abbott a hypocrite for his call for the speaker, Peter Slipper, to be dismissed from his post and alleged that Abbott himself was a sexist.
She invited him to quit over his own views.
During her lengthy tirade, she accused Abbott of a string of sexist comments, many directed against Gillard herself.
They included him standing next to a sign which read "Ditch the witch" and apparently endorsing a description of her as a "bitch".
Gillard said: "I will not be lectured about sexism and misogyny by this man, I will not. And the government will not be lectured about sexism and misogyny by this man, not now, not ever.
"The leader says people who hold sexist views and are misogynist are not appropriate for high office.
"Well I hope the leader of the opposition has got a piece of paper and is writing out his resignation. Because if he wants to know what misogyny looks like in modern Australia, he doesn't need a motion in the House of Representatives, he needs a mirror.
"We are now meant to take seriously that the leader of the opposition is offended by Mr Slipper's text messages," she added.
"Every day sexism and misogyny from the leader of the opposition. This kind of hypocrisy should not be tolerated."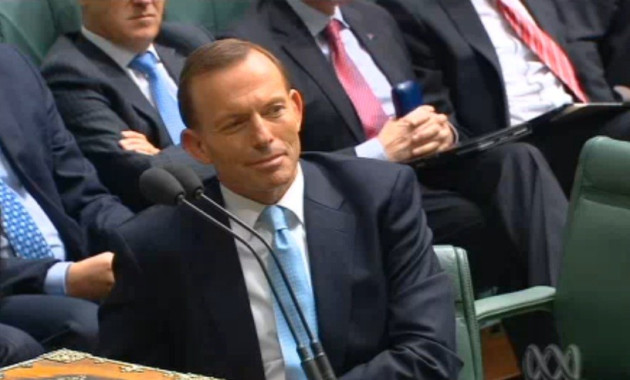 The Leader of the Opposition wore a fixed grin as Gillard laid into his record on women's issues.
Experienced campaigner Abbott has a record for sparking controversy with his comments on abortion, global warming and the role of women in society.
He is a popular leader of the centre-right Liberal party and widely tipped as an electoral threat to Gillard. Her very public smack-down of him comes as her government struggles with growing unpopularity with voters.
Her administration's new carbon tax is highly unpopular and has sparked fears that it could cost jobs.
The context for the latest clash between the pair was a sexual harassment case being fought by Slipper. He is being sued by a member of staff for text messages allegedly sent by him that are said to be full of crude sexual and inappropriate content.
Gillard rejected the motion for him to be sacked until the court delivered its verdict.