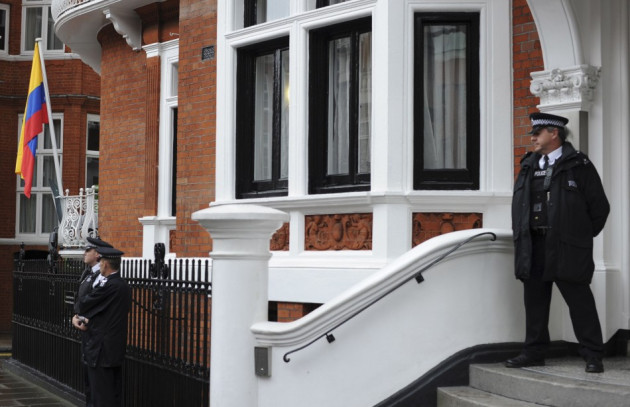 Britain has threatened to revoke the diplomatic immunity of the Ecuador embassy in London and enter the building to arrest WikiLeaks founder Julian Assange.
The news was broken by Ecuador's foreign minister, Ricardo Patino, who told reporters that Britain had sent a letter containing "an express threat... that they might storm our Embassy in London".
The letter, which was delivered through an official of the British embassy in the Ecuadorean capital, Quito, has now been made public. It reads:
"You [the Ecuadorean government] need to be aware that there is a legal base in the UK, the Diplomatic and Consular Premises Act 1987, that would allow us to take actions in order to arrest Mr Assange in the current premises of the embassy.
"We need to reiterate that we consider the continued use of the diplomatic premises in this way incompatible with the Vienna convention and unsustainable and we have made clear the serious implications that this has for our diplomatic relations," it continued.
The announcement came ahead of a ruling by Ecuador's president, Rafael Correa, which will determine whether the country grants asylum to Assange. The ruling is expected by 7am Ecuadorean time (1pm BST).
Patino has described the letter as a dangerous precedent, saying its content was "improper of a democratic, civilised and rule abiding country".
The minister added that Ecuador has no intention of backing down, saying: "We want to be very clear, we're not a British colony. The colonial times are over.
"The move announced in the official British statement, if it happens, would be interpreted by Ecuador as an unfriendly, hostile and intolerable act, as well as an attack on our sovereignty, which would force us to respond in the strongest diplomatic way."
Britain Determined to Extradite Assange to Sweden
Britain is determined to extradite Assange to Sweden where he is facing allegations of rape and sexual assault by two WikiLeaks volunteers.
"The UK has a legal obligation to extradite Mr Assange to Sweden to face questioning over allegations of sexual offences and we remain determined to fulfil this obligation," a Foreign Office spokesman told Reuters.
"Under British law we can give them a week's notice before entering the premises and the embassy will no longer have diplomatic protection," he added.
Though Sweden has not charged Assange, they are going ahead with the investigation. Assange fears that if he is extradited to Sweden, they will send him to the United States where he will be persecuted for publishing thousands of secret diplomatic cables.
Though the Ecuadorean government wanted to avoid Assange's extradition, legal and international experts see little chances of him escaping arrest by the British police if he steps into the UK's territory.