Julian Assange, whistleblowing icon and founder of WikiLeaks, is set to learn the outcome of a United Nations investigation that could potentially rule he is being illegally detained in the UK. Following a complaint filed by Assange in September 2014, the UN's Working Group on Arbitrary Detention (WGAD), which analyses complaints of illegal arrests and detentions from a human rights perspective, will publicly announce its decision in the case of Assange vs UK and Sweden by Friday 5 February.
Furthermore, according to WikiLeaks, if the detention is found to be unlawful Assange could be "released immediately" and compensated by the UK and Swedish governments. The WikiLeaks founder has been residing in the Ecuadorian embassy under political asylum since June 2012.
While WikiLeaks is pitching the ruling as a game-changer, the UN group may not have as much clout in the UK as some reports claim. On the website of the UN Human Rights high commissioner, the group's powers do not appear to be absolute.
"If the Group decides that the arbitrary nature of the deprivation of liberty is established, it shall render an opinion to that effect and make recommendations to the Government. The opinion is sent to the Government, together with the recommendations. Two weeks after this notification, the opinion is also conveyed to the source for information," it states.
Charges dropped
Last year, the BBC reported that Swedish prosecutors had officially dropped a number of charges in their ongoing investigation into Assange, including one count of sexual assault and one count of unlawful coercion, as the country's law states a suspect must be questioned before its statute of limitation expires. However a separate sexual assault case that did not expire carries a 10-year statute of limitations and means that Assange can still face potential prosecution in Sweden until 2020.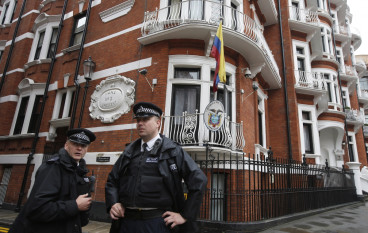 Meanwhile in October 2015, British police curbed the 24/7 monitoring of the Ecuadorian Embassy, ditching dedicated officer surveillance in favour of undisclosed covert tactics.
Assange shot to fame following a number of key disclosures published by WikiLeaks, including the infamous 'Collateral Murder' video which showed the killing of suspected insurgents in Baghdad that turned out to have also unintentionally executed two journalists working for the Reuters news agency. WikiLeaks also leaked a number of classified 'war logs' and diplomatic cables from within the US government which drew the ire of both the intelligence agencies and President Barack Obama's inner circle.
During his time in the embassy, Assange has maintained that if he travelled to Sweden to face the assault allegations head-on he would quickly be extradited to the USA to face trial for his role in WikiLeaks.