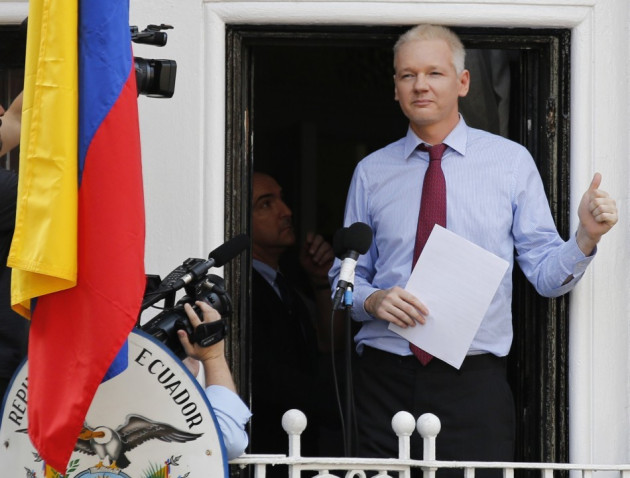 Julian Assange's lung infection has been caused by the lack of daylight in London coupled with a shortage of fresh air, the Ecuadorian ambassador for Britain has said.
Ana Alban said the WikiLeaks founder has developed a chronic lung infection and now needs constant medical attention.
She said his condition could get worse and he may need to be hospitalised.
Assange, 41, has been living at Ecuador's Embassy in London since June. Speaking about the infection, Alban said living in a "confined space" has caused him to suffer health problems.
"Not only does the embassy have few windows but the city is also dark at this time - we have very little daylight in London," she said.
"He is exposed to any health consequences from this lack of sunlight and lack of fresh air."
Previous reports of Assange's living conditions say he has a vitamin D lamp to make up for the lack of direct sunlight.
Safe passage
Alban said his health "could get worse at any time". She explained that the Ecuadorean state is covering their guest's medical costs and doctors are visiting regularly to check on his health.
If Assange leaves the Embassy, he will be arrested and extradited to Sweden, where he faces rape and sexual assault charges.
The ambassador plans to appeal to the Home Office in order for Assange to be granted safe passage to get medical care and then return to the Embassy after.
Assurances have been made that Assange will be granted any medical care he needs.
Ecuador is also still seeking safe passage for Assange out of the UK but British authorities have refused this request.
Assange, who came to public attention after publishing sensitive documents and military files from the war between the US and Afghanistan, will be extradited to Sweden if he sets foot outside the heavily-guarded Embassy.
Two women filed sexual assault charges against him in 2010, saying the offences occured while he was in Stockholm giving a lecture. Assange denies the charges but refuses to face questioning in Sweden because he believes he will then be extradited to the US over his activity with WikiLeaks.
Sweden has said it will not extradite Assange to the US if he faces the death penalty for espionage.