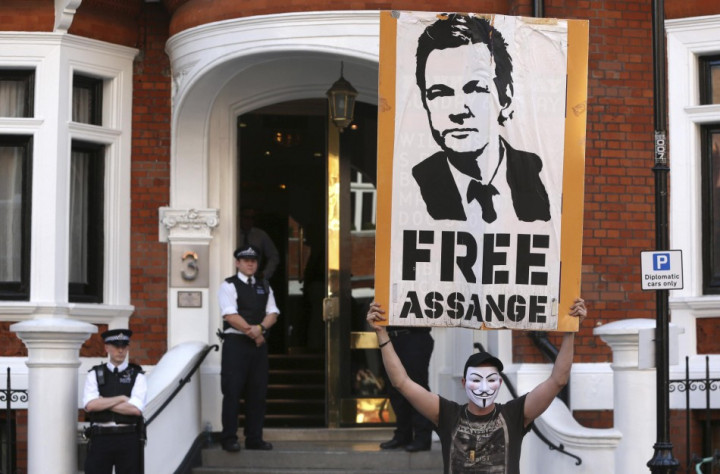 Beleaguered WikiLeaks founder Julian Assange, who has been holed up in the Ecuador embassy in London for two months, is due to make a statement from his safe haven.
Assange is expected to speak from a balcony or lean out of a window at 13:00 GMT. He has been warned that even the embassy steps would be considered British territory, making him liable to arrest if he were to step out of the building.
WikiLeaks has not revealed any details about Assange's planned appearance.
WikiLeaks spokesman Kristinn Hrafnsson told AFP that he could not reveal what little information he had for security reasons.
Ecuador Seeks More Latin American Support
Ecuador is trying to increase Latin American support for its decision to grant asylum to Assange and bring him to Quito, terming it as a struggle against colonialism.
Following an emergency meeting of the Organisation of American States (OAS), Ecuador is planning a similar meeting of the Union of South American Nations, the ALBA group of Bolivarian states and the UN.
The left-leaning ALBA association includes Communist Cuba and Nicaragua, among others.
The OAS would be meeting again within a week in view of the "problem posed by the threat or warning made to Ecuador by the possibility of an intervention into its embassy".
"What is being proposed is that the foreign ministers of our organisation address this subject and not the subject of asylum nor whether it should be granted to Mr Julian Assange. That will be discussed between Great Britain and Ecuador. The issue that concerns us is the inviolability of diplomatic missions of all members of this organisation," said OAS secretary general José Miguel Insulza.
Britain earlier warned that the Diplomatic and Consular Premises Act of 1987 allows it to revoke the diplomatic immunity of any embassy in British territory and enter the premises but maintained that it preferred a negotiated outcome.
"We will not allow Mr Assange safe passage out of the United Kingdom, nor is there any legal basis for us to do so," said Foreign Secretary William Hague.
Assange is facing allegations of sexual assault in Sweden and he fears that if he were extradited to Sweden he would be sent on to the United States to face charges including espionage and conspiracy.
"The main reason why Julian Assange was given diplomatic asylum was because his extradition to a third country was not guaranteed; in no way was it done to interrupt the investigations of Swedish justice over an alleged crime. In no way," Ecuador President Rafael Correa said in a weekly radio address.
Assange's whistleblower website WikiLeaks published thousands of secret US military documents pertaining to the war on Iraq and Afghanistan.