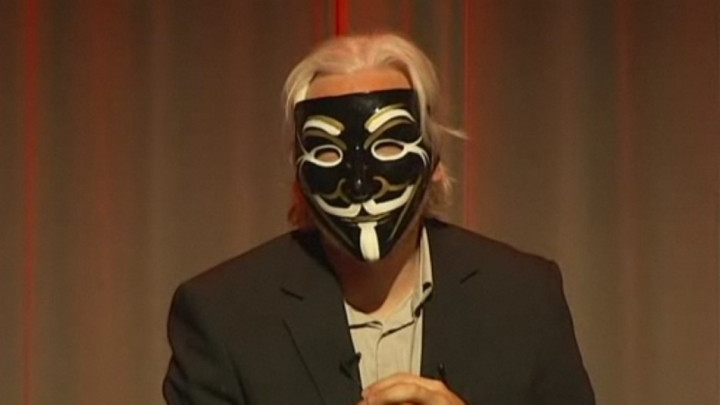 Wikileaks' founder Julian Assange has donned a Guy Fawkes' Anonymous mask in what he claims to be his "last public appearance" at a pre-Baftas event in London.
Less than a week before his extradition ruling, Assange talked publicly about his role in the documentary Shadows of Liberty, which is about press freedom in the US.
He chose to wear a mask which has become associated with the hacking collective Anonymous, which has staged several cyber-attacks to websites of governments and organisations all over the world.
"It's probably my last time in public so I thought I should start with a situation where you won't be able to see me anymore," he said in an interview with ABC news
Assange could be extradited to Sweden in a month to face sexual assault allegations. He is accused of raping a woman in Stockholm back in 2010.
A panel of seven Supreme Court Judges are set to decide on the issue. He denies the claims and says they are politically motivated for its works with Wikileaks.
"I think all of us are at their best when we are pursuing an ideal that we find to be important to ourselves and important to others," Assange said. "I feel that I've made my days count, so I certainly would not want to exchange days that be counted with days that cannot."
If he loses the UK appeal next week there could be another one at the European Court of Human Rights in Strasbourg.
"One last avenue of appeal to the European Court of Human Rights and it would be for the courts to determine whether it will hear that appeal but we should get that back very, very quickly if the appeal is filed," human rights lawyer Jennifer Robinson told ABC news.
Assange's lawyers told the judges that the Swedish prosecutor who issued the European Arrest Warrant did not have the authority to do so.
In November 2011, the High Court upheld a ruling by District Judge Howard Riddle that the 40-year-old Australian founder of Wikileaks should be extradited to face investigation.
Assange wore the white version of the mask, which was designed by V for Vendetta author Alan Moore in the likeness of 16th-century Catholic terrorist Guy Fawkes. on his way to an Occupy London rally on October 11 last year.
EXCLUSIVE: Hacker Adrian Lamo Who Betrayed Wikileaks' Manning Turns Fire on Anonymous