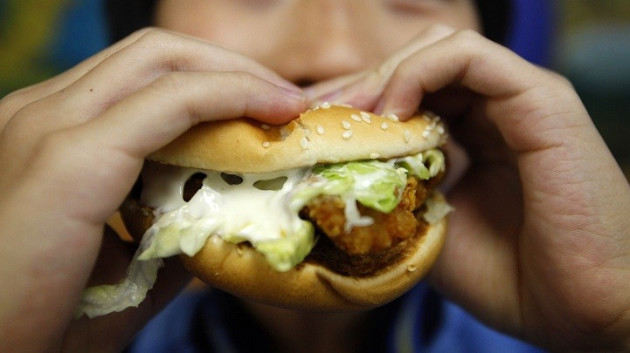 Packed lunches could be banned and pupils locked inside school premises during breaks in a bid to stop obesity among the young.
Drastic measures have been tabled in a bid to fight the nation's ever-expanding waistlines.
Experts recruited by the government blamed the obesity epidemic on junk food shops for serving greasy fare at low prices, and mums and dads at home for preparing packed lunches.
In contrast, school canteens appear to get off relatively lightly for serving up meals which pupils either do not want, or parents cannot afford to pay for.
But the report does warn that schools are failing to provide enough classes for youngsters on nutrition and cooking.
Among recommendations to headteachers are for school meal prices to be cut, a 'stay on site' to keep pupils away from takeaways during breaks, and also for cooking lessons for parents from the state.
Restaurateurs Henry Dimbleby and John Vincent, who founded the upmarket eatery Leon, wrote the hard-hitting report. They found that 90% of headteachers believed nutrition had an impact on academic performance.
Dimbleby criticised parents for stuffing lunchboxes with chocolate and crisps. He said: "More than a half of our children bring packed lunches into school and two-thirds of those have crisps in them and two-thirds have confectionery in them.
"The best schools - the schools that have good food - find ways of making packed lunch the less exciting option. Some of them ban packed lunch altogether."
In London, a quarter of children starting primary school are obese or overweight. Nationwide, 20% of pupils leave primary school obese.
Currently, less than half of pupils eat school meals, even though the government has spent £140m on subsidising school canteens and is nowhere near breaking even.
"There's also a growing recognition that food can improve attainment and behaviour, so what we are publishing today is a plan with actions to support headteachers to improve the food in their schools.
"For example, there's £60m from government for expert organisations to work directly with heads to improve the food in their schools. There's money to set up breakfast clubs."
Labour MP Sharon Hodgson condemned Education Secretary Michael Gove for letting academies and free schools opt out of the standards set by celebrity chef Jamie Oliver.
She said: "Parents deserve to have confidence in the quality of school meals. Labour's food standards should apply in all schools, and Michael Gove needs to perform another U-turn to ensure they do."