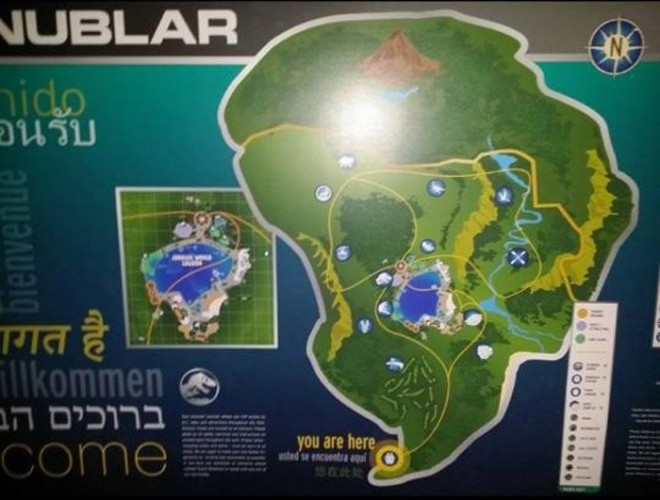 As the fourth Jurassic Park film Jurassic World films in Hawaii, a major leak has revealed that the film will be set in a fully operational dinosaur theme park, as well as confirming a number of dinosaurs.
Warning: Spoilers for Jurassic World's dinosaur stars follows
The map comes courtesy of JPLegacy.org owner and founder Tyrannosaur, and it shows off a new-look dinosaur resort set on Isla Nublar (where the first film was set) which includes a number of areas featuring famous dinosaurs.
At the centre of the map is the "Jurassic World Lagoon" in which lives a new aquatic dinosaur called Mosasaurus – a carnivorous underwater animal that could reach up to 18 metres in length.
Nearby stands the Visitor's Centre, as well a Water Park, Petting Zoo, Amphitheatre and T-Rex Kingdom. We don't know about you, but putting the T-Rex so close to the Visitor's Centre seems like a silly idea.
As well as the Tyrannousaurs, the map's key reveals that Triceratops, Gallimimus and Pachycephalosaurus will also feature in the film.
Other attractions include the Innovation Centre, Cretaceous Cruise, Creation Laba, Water Park, Petting Zoo, Egg Spinner, Bamboo Forrest, Gyrosphere, Botanical Gardens and, of course, a Golf Course.
What's noticeable is the lack of Velociraptors mentioned on the map. Could it be that the series' most vicious stars are absent from Colin Trevorrow's fourquel? If not, the secrecy of their existence could prove a key part of the film's plot.
Starring Chris Pratt, Bryce Dallas-Howard, Nick Robinson, Ty Simpkins, Irrfan Khan and Omar Sy, the film is set for release on 12 June 2015.
You can take a closer look at the images below...