DJ Khaled's baby son is a star in the making. The six-month-old tot appears alongside Justin Bieber, Lil Wayne, Chance The Rapper and Migos rapper Quavo in the music video for DJ Khaled's new single, I'm The One, and completely steals the show.
Directed by Eif Rivera, the stunning visuals open with a glimpse of the music producer's son, Asahd, who is seen only momentarily chuckling away while sitting in the executive producer's chair. It confirms DJ Khaled's recent claims that the boy is taking a creative role in the recording of his forthcoming album, Grateful, even at his tender age.
Later in the clip, Khaled is seen phoning Chance The Rapper to invite the Chicago-native and their musical peers over to his mansion for a huge party to "celebrate life, success and our blessings". Khaled's message of positivity is countered with shots of a scantily-clad woman riding a white horse through the mansion's gate.
Bieber is waiting on the other side of the doors, surrounding by a bevy of women in the pool area where he delivers the chorus. The Sorry singer later joins forces with Khaled, Quavo, Chance The Rapper and Lil Wayne to enjoy the party.
Reacting to the visuals and Asahd's unexpected appearance, one commented on Twitter: "I think it's safe to already declare #imtheone the song of summer 17. @djkhaled and asahd have the formula! ANOTHER ONE!!!" while another enthused: "Dj Khaled has his son as a song cover if he's not the best dad I don't know who is."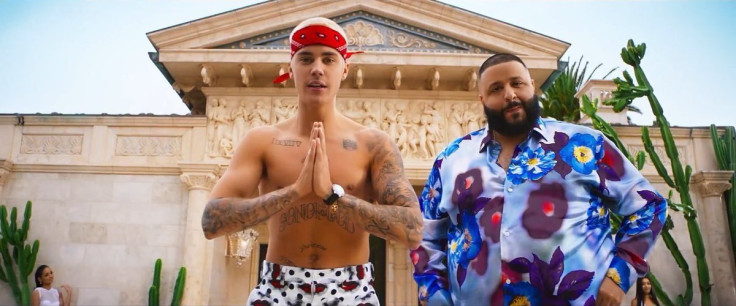 I'm The One follows on from DJ Khaled's most recent single, Shining, featuring musical power couple Beyonce and Jay Z. Sharing how the collaboration came to be, DJ Khaled told XXL: "I'm like [to Jay Z], 'Let me play it for you', and the first 20, 30 seconds he was bopping his head and I seen him already rhyming in his head. After I played him the record I was like, 'Yo, I know the answer is no, but if you want to play this for your wife... man, that would be dope! But I know the answer is no'."
Clearly it worked in DJ Khaled's favour as Beyonce recorded her vocals and the track debuted after the Grammys 2017 in February. The producer is yet to set a release date for his 10th studio album, Grateful.
Watch DJ Khaled's I'm The One music video: