Pop star Justin Bieber has made an emotional visit to the Philippines, describing it as "most touching trip of my life."
The 19-year-old made the unannounced visit to the typhoon struck region today (10 December), where he met with school children at an evacuation centre at San Jose town in Tacloban city.
The Beauty and the Beat singer performed an impromptu gig for some of the young victims affected by the natural disaster, and showed off his basketball skills.
Bieber recently launched a campaign to help raise money for the victims of Typhoon Haiyan, which ripped through the area over a month ago, causing widespread devastation and leaving thousands dead and homeless.
Arriving in Manila for the final date of his "Believe" world tour, the pop star called on his legions of loyal fans to donate cash to a campaign he kickstarted that provides assistance to Filipinos affected by Supertyphoon Haiyan.
Appealing to his fans in a video post on fund-raising outlet Prizeo Bieber said: "The moment I heard about the tragedy a few weeks back, I knew I could count on you guys to make a difference. "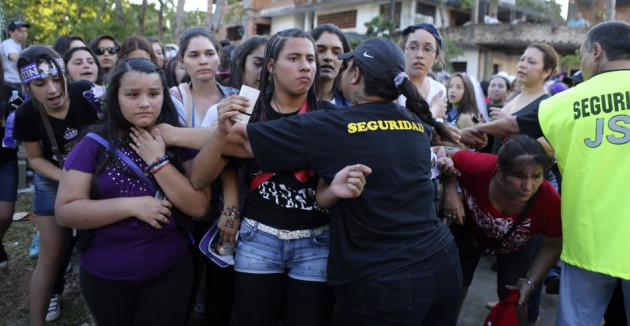 And in a rare move, he announced that one lucky fan could win the chance to hang out in the studio with him next year, while he works on his next album.
Writing on the Prizeo website, Bieber said: "Hey guys - it's Justin, In the wake of Typhoon Haiyan, its victims in the Philippines need our help - and they need it now. That's why I've decided to partner with Prizeo to raise vital funds for the relief effort.
"I'm doing something I've never done before: for just a tiny donation to the relief effort, you'll be automatically entered for a chance to hang out with me in the studio early next year and watch me record some new music. I'll fly you and a friend over to join me in LA from wherever you are in the world. It's gonna be awesome."
In a site update he said: "UPDATE: added a pair of tickets to meet me at the Believe Movie premiere in LA for a second prize wInner. This is something I've never done before, and I'm so excited to hang out with one of my Beliebers."
An estimated 13.2 million people have been affected by the devastating typhoon with 3.5 million people displaced from their homes.
Donate to the Haiyan Typhoon appeal at http://www.prizeo.com/
The singer, who more often makes headlines for his love life and his raucous off-stage antics, has so far raised more than $3 MILLION to boost the international relief effort.