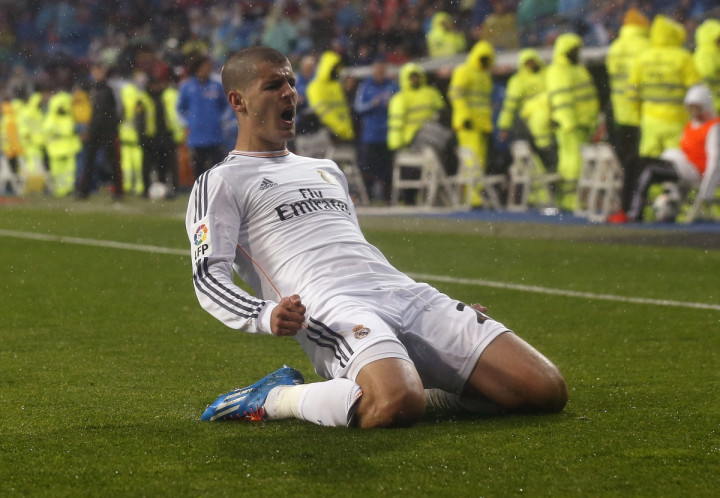 Arsenal have suffered a setback in their pursuit of Real Madrid striker Alvaro Morata after reports in Italy claimed Juventus have increased their offer to €20m for the player.
The 21-year-old striker has been linked with a move away from the Santiago Bernabeu having failed to feature in Carlo Ancelotti's first team plans – he is currently providing back-up to Karim Benzema.
Earlier this month Morata's agent, Juanma Lopez, met with Real to discuss the young striker's exit route. The agent is keen to finalise an agreement that will allow the player to leave the club for €20m without any buy-back clause – but Real are not willing to accept this.
Lopez attended with partner Beppe Bozzo, whose presence was significant as he collaborates with Giuseppe Marotta, the general director of Juventus – and it was reported the Italian giants offered €18m to secure Morata's services.
But now, according to La Gazzetta dello Sport, Juve have made a final €20m offer for the rising star which includes a €25m buy-back clause for Real to bring the player, who they consider has a sparkling future, back to the Bernabeu.
Los Blancos are looking to repeat their experince with Dani Carvajal, who spent a season at Bundesliga side Bayer Leverkusen during the season 2012/13 but has since returned to Madrid in superb form.
Morata was close to joining Arsenal on loan during the January transfer window only for Ancelotti to block the deal as he did not have a replacement lined up for the second half of the season. But the situation has since changed and the Real boss has now confirmed Morata is likely to leave the club this summer.
However, Real will not authorise his departure – on loan or on a permanent basis – until they have signed another forward. Reports in Spain claimed that Antoine Griezmann and Juan Iturbe are the main candidates to fill the void expected to be left by Morata.