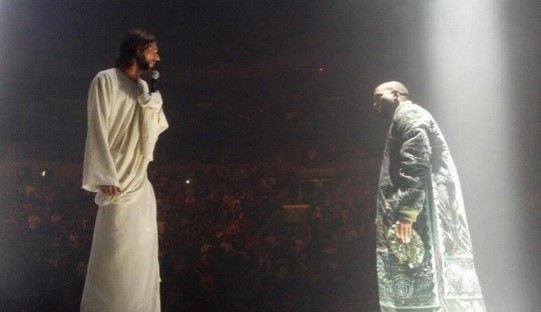 Kanye West has provoked the wrath of the Christian community after performing with 'Jesus' at his Seattle concert.
The controversial US rapper raised eyebrows when he introduced a number of religious themes to kick off his "Yeezus" tour.
While he performed hits including "Jesus Walks," "Flashing Lights" and "Can't Tell Me Nothing" women dressed as disciples and ballerinas in flesh-toned costumes graced the stage.
The show also featured a set, designed by his DONDA creative company, which was filled with religious-themed visuals.
The theatrics reached their climax when the hip hop star was visted by a man dressed as son of God while performing from atop a mountain.
"White Jesus, is that you?" West asked the actor before taking off his mask and letting out a hilarious "Oh, sh-!"
Fans were left stunned by West's decision to 'use Christ' in his show and branded his actions 'blasphemous' and disrespectful to the Christian faith.
"Some of the celebs won't understand until it's to late, that you DO NOT mess with God," one unimpressed viewer said.
Another wrote: "I'm not so much concentrated on the imagery as much as I am the intent and overall disrespect. Regardless of the individual he used to portray Jesus, the message and disrespect still remains. It's disrespectful and that's just case in point."
"Something in my spirit doesn't feel this is right. I know he's an artist and pushing boundaries is his art, but this feels like too much," a third critic said.
The backlash come just weeks after West waged war on Jimmy Kimmel because the chat show host poked fun at the rapper's highly-publicised interview with BBC Radio 1′s Zane Lowe.
"Should I do a spoof about your face or you f**king Ben Affleck. ##nodisrespecttobenaffleck alldisrespecttojimmy,"he raged in one tweet.
The duo later buried the hatchet when West appeared on Kimmel's chat show.
West, who welcomed his first child with Kim Kardashian in June, has not addressed the concert backlash.