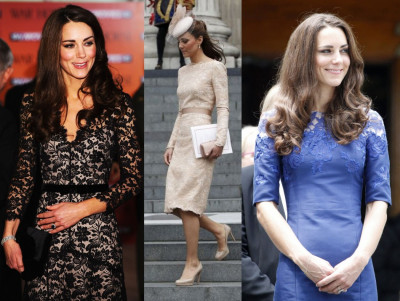 Kate Middleton may have worn street fashion dresses, high designer outfits or recycled her well recognized dresses for public occasions, but every time the Duchess of Cambridge got into a lace dress, she did justice to her royal status.
Just a day after Catherine came under fashion cynics' scrutiny for donning a bold red Alexander McQueen dress, which arguably outshone the Queen during the Queen's diamond jubilee pageant on the River Thames, Kate Middleton slipped into an elegant nude lace dress by the same designer.
The Duchess wore the boat-neck, knee-length dress to attend a service of thanksgiving to celebrate the diamond jubilee of Queen Elizabeth at St Paul's Cathedral in central London on Tuesday.
She teamed her nude lace dress with a pair of nude stilettos and completed her ensemble with a matching Jane Taylor hat. A pair of pearl drop earrings and a belt around her waist gave Kate Middleton the complete regal style.
Kate's style statement at St Paul's Cathedral reminded one of two of her Canada tour outfitS that were lace dresses, and more recently, of her stunning floor-length cream and black lace gown, which she wore to the UK premiere of the film War Horse in London in January.
During her first overseas trip to Canada as a royal family member last July, Kate Middleton wore two pieces of lace outfit that were quite a regal wardrobe choice. While the Duchess donned a royal blue dress by Canadian designer Erdem Moralioglu having lace overlaid for her visit to a centre for homeless young people in Quebec City, she touched down in Canada in another navy lace dress by the same designer.
Kate Middleton, who has always clarified that she does not want to be a royal clothes horse, incidentally is not, indeed, especially when it comes to fashion. But despite her efforts to stay as a low-profile royal by sporting high street style and repeating wardrobe, the Duchess' natural elegance makes her look truly like a royal.
And her royalty is topped with the elegant lace dresses she wears. Check out the slideshow to have a look: