Kate Middleton and Prince William Share Private Moments at Wimbledon: Intimate Expressions of Duke and Duchess of Cambridge [PHOTOS]
It is sometimes difficult for Prince William and Kate Middleton to catch a few private moments together, amid their hectic daily schedules, and allow each other to express the love they feel for the other... particularly when they're out in public together.
Nevertheless, the Duke and Duchess of Cambridge, easily the world's most photographed royal couple, have often been caught on camera and in videos with eyes only for each other and the men's quarter final tennis match at Wimbledon was no different.
Prince William and Kate were seen chatting with each other and with quite candid expressions, as they managed to indulge in some quick chitchat even during the match that featured Scotland's Andy Murray and Spain's David Ferrer. The match also turned out to be one of those rare events which saw William and Kate relax from strict royal protocols and indulge in some spontaneous fun, as they enjoyed the ups and downs of the match.
The Duke and Duchess of Cambridge applauded heartily as Andy Murray won and cheered both players throughout the match.
Kate Middleton's Dress
Kate Middleton, now very well known for recycling dresses, repeated a dress yet again for her appearance in the Royal box at Wimbledon, proving once again she didn't want to be portrayed as a royal clotheshorse.
Kate wore the same cream-knit Alexander McQueen dress she wore to Province House in Charlottetown on Prince Edward Island, during her first official tour abroad to Canada as a member of the British Royal Family, in July 2011. However, despite recycling her wardrobe, Kate Middleton makes sure she keeps her style fresh and opts for different hairdo and accessories. On this occasion, while Kate accessorised herself with the same pair of blue sapphire drop earrings she wore with the dress in Canada last year, she let her hair down and loose for the summer and the grass courts at SW19.
Scroll down to see the latest photographs of William and Kate, having a quick chat during Andy Murray's quarter final at Wimbledon...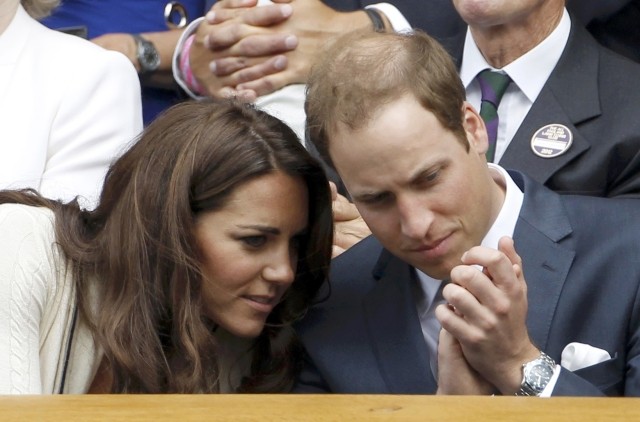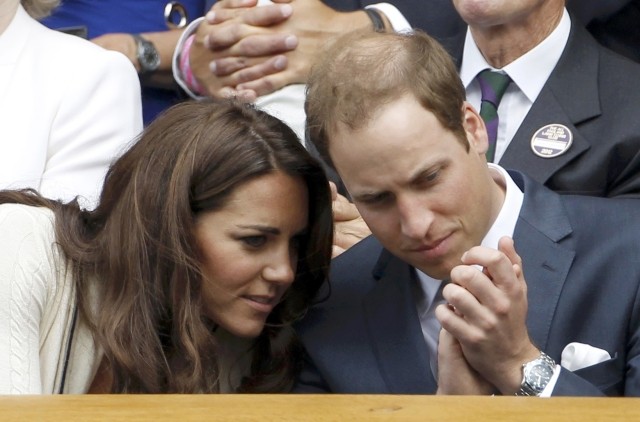 © Copyright IBTimes 2023. All rights reserved.