A tabloid has claimed that Kate Middleton is in a feud with her royal grandmother-in-law, the Queen.
The cover of Life & Style magazine, 14 July issue says the Duchess was "Tormented by the Queen" and "Kate Leaves the Palace for Good."
The publication further claims: "She endures months of bullying about her parenting, overspending and wardrobe malfunctions."
An alleged source told the publication that the Queen and Kate have been privately feuding ever since her wedding to Prince William in 2011.
"She feels very embarrassed by Kate," an insider said.
"She feels like she still acts like a commoner," the source added.
Adding on, the 88-year-old monarch also criticised Kate over renovations to the 10-bedroom Anmer Hall house in Norfolk.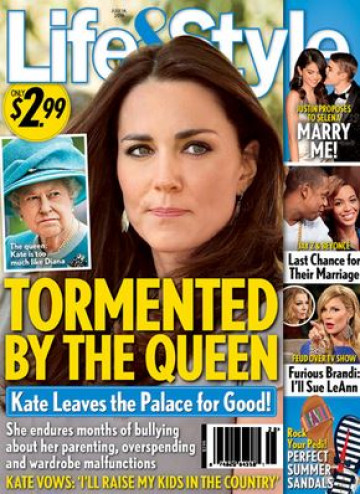 The estimated £1.5million bill includes £500,000 to replace roof tiles and another £500,000 to landscape the front lawn.
Kate is also reportedly intending to replace all the fireplaces of the mansion, and the Queen is not amused.
"The queen is famously careful about not being flashy," a source told the magazine.
"She's shocked about Kate's overspending. She thinks it doesn't make Kate or the royals look good to be splashing out millions on redecoration."
Kate and Prince William already have a 20-room apartment in Kensington Palace, which has cost taxpayers an estimated £2.6 million to refurbish.
The 32-year-old royal is allegedly planning to move her family to the countryside estate from their official residence, away from Buckingham Palace and the royal family.
"The Queen feels it's important for William, Kate and [Prince] George to be based in London. But Kate is completely going against her wishes," the source said.
However, the Palace told Gossip Cop there is "no truth" to any rumours of conflict.