Katy Perry celebrates 32nd birthday by voting for Hillary Clinton after naked stunt
Perry has been vocal about her support for Clinton and got naked in a spoof video encouraging public to vote.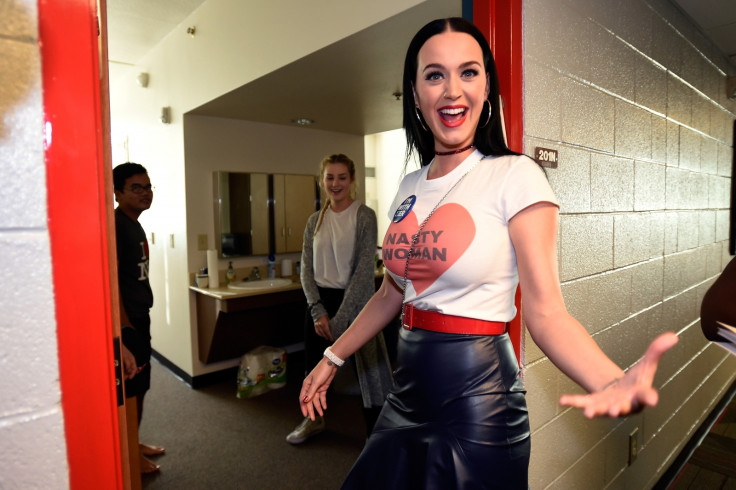 Katy Perry's 32nd birthday was one to remember. The California Gurls singer celebrated her special day on 25 October by casting an early vote for democratic nominee Hillary Clinton ahead of the US presidential election. Perry then topped off her eventful day by partying at the latest show on Kanye West's Saint Pablo Tour.
The Teenage Dream singer headed to a polling station wearing a Stars And Stripes jacket and matching handbag and shared the moment with her fans via Instagram. Confirming her choice of candidate, Perry says in the video: "Happy birthday to me and happy birthday to you HRC," before dropping her ballot into the box.
Perry captioned the video clip: "GAVE MYSELF THE BEST BIRTHDAY PRESENT EVER BY VOTING TODAY❗️Wish @hillaryclinton a Happy Birthday tomorrow with your EARLY vote. Check www.rockthevote.com to see where your poll is. #HBDTOME#HAPPYBIRTHDAYHILLARY#SCORPIOSISTERS." Clinton celebrates her 69th birthday on 26 October.
The pop star has been extremely vocal in her support for Clinton in the run-up to election day on 8 November. Days before casting her vote, Perry and a group of female friends wore T-shirts bearing the slogan "Nasty Women" in reference to republican candidate Donald Trump's comment about Clinton at their third and final debate. Perry wrote alongside the image: "Tap it if you're nasty."
In September, Perry proved her dedication to ensuring Clinton claims the White House throne by getting naked in a Funny Or Die spoof video in a bid to encourage the public to vote. Hours after visiting the polling station, Perry headed to her E.T. collaborator Kanye West's tour show at The Forum in Inglewood, California.
Perry's fellow pop star Justin Timberlake also got his vote in early but almost landed himself in hot water in the process. The SexyBack singer shared a selfie of himself voting in his home state of Tennessee but failed to realise that is illegal to do so. However, officials have confirmed they have not been pressed to investigate Timberlake's mistake.
British singer Adele may be unable to vote but she has urged her American fans to have their say and not vote for Donald Trump. The Hello hitmaker told the audience at her tour show in Miami: "I do know what to do – don't vote for him, that's all I'm saying. I support Hillary Clinton 100%, I do. And for anyone else that wants to vote for him, I don't care, good for you, do whatever you want. I'm just letting you know who I would vote for."
Watch Adele urge audience to vote for Hillary Clinton:
© Copyright IBTimes 2023. All rights reserved.