Pro-Palestinian Hackers Hijack Metasploit Website by Sending Fax
A group of hackers looking to highlight the plight of Palestine has been able to hijack the Metasploit website simply by sending a fax.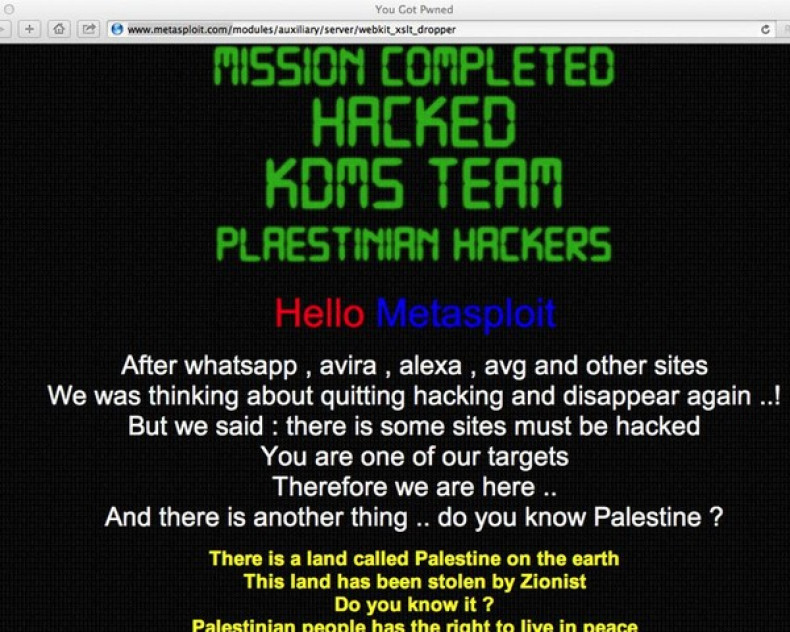 The hackers, known as Kdms Team, are a group of four hackers with the aim of familiarising the "whole world with our unlawfully murdered Palestine." The group came to prominence earlier this week when it managed to hijack the websites of popular messaging service WhatsApp and anti-virus company AVG among others.
Today the group has managed to trick Register.com, the company which manages the DNS records for the website of computer security service Metasploit, but rather than using some high-tech technique to trick them, it appears that all the group had to do was send a fax.
According to HD Moore, chief research officer at security company Rapid7 and driving force behind Metasploit, the website was "hijacked through a spoofed change request FAXED to Register.com. Hacking like its 1964."
http://t.co/y5VwTXFR3T was hijacked through a spoofed change request FAXED to http://t.co/thf6vZnvuX. Hacking like its 1964

— HD Moore (@hdmoore) October 11, 2013
Metasploit is a service used by computer security professionals around the world to aid in penetration testing of corporate systems and verify if vulnerabilities have been properly fixed.
Do you know Palestine?
While the problem has now been rectified, visitors to the Metasploit.com website earlier on Friday were redirected to another domain claiming to be metasploit.com. On this website Kdms Team posted a similar message to the ones it posted on the hijacked WhatsApp and AVG websites earlier in the week.
"After Whatsapp , Avira, Alexa , AVG and other sites. We was [sic] thinking about quitting hacking and disappear again! But we said: there is some sites must be hacked. You are one of our targets. Therefore we are here. And there is another thing do you know Palestine?"
According to security expert Graham Cluley, DNS records "work like a telephone book, converting human-readable website names like metasploit.com into a sequence of numbers understandable by the internet. If hackers manage to change a site's DNS records, they can take you to a website that isn't under the legitimate company's control."
All the attacks on websites earlier in the week were linked to one domain registrar, Network Solutions, which was compromised by a member of staff clicking on a phishing email, one of the most popular ways for those without huge technical ability to breach computer systems.
Cluley warns: "Surely companies like Register.com and Network Solutions need to be a little wiser about the possible tricks hackers could use to mess with their customers' web visitors?"