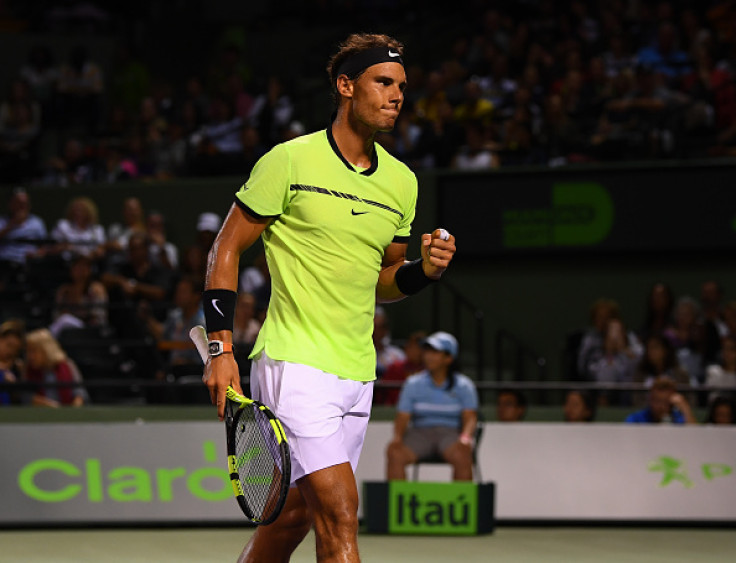 Rafael Nadal says the 2017 Miami Open semi-final clash against Fabio Fognini will be a "tough match" and admits that he needs to be aggressive in order to improve his chances of making it to the final of the competition.
The Spaniard and Fogini have faced each other on 10 occasions with the former leading the head-to-head tally 7-3. The last six meetings between the pair saw each of them winning three matches each.
Nadal faced the 29-year-old Italian in the fourth round of the Miami Open in 2014 and the latter suffered a 6-2, 6-3 straight set defeat. Fognini has dropped two sets so far in the ongoing competition and made it to the last four after defeating Kei Nishikori in straight sets 6-4, 6-2 in the quarter-final clash.
Despite leading the head-to-head tally, the 14 time Grand Slam winner is hoping to emulate his performance against Jack Sock in order to improve his chances of registering a victory over Fognini.
"Well, I know him very well; he knows me very well. We played a couple of times; he beat me a couple of times, too. So, yeah, it's a tough match. He's playing well, so will be a good tennis for me, too, and a good challenge," Nadal explained, as quoted by Tennis World USA.
"Happy to be in the semifinals. I'm excited about playing that semifinals match against a player who's playing very, very well during the whole week. Going to be a tough one. I need to play my best, keep playing aggressive like I did today, and hope to have my chances."
The fifth seed Spaniard managed a straight set victory over 13th seed Sock in the quarter-final clash on 30 March. Though the scoreline was 6-2, 6-3 in Nadal's favour, the former world number one was made to work hard, particularly in the second set.