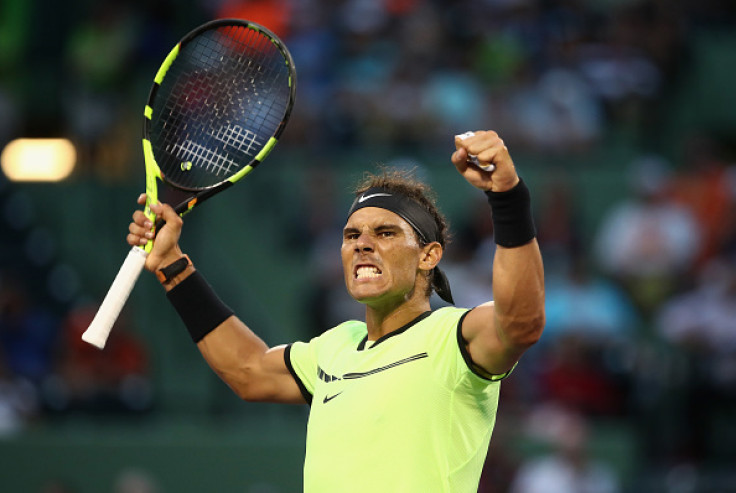 Rafael Nadal marked his 1000th ATP Tour match with a come-from-behind win over Germany's Philipp Kohlschreiber, stating afterwards that he was happy to prove his critics wrong.
The former world number one recovered from a poor start in the first set, where he failed to win a single game, to come back and defeat the German veteran 0-6 6-2 6-3.
It was the first time since 2008 that Nadal had failed to win a game in the first set of an ATP tour match but the Spaniard eventually prevailed in what was his 822nd ATP win to set up a round of 16 match with France's Nicolas Mahut.
Following the match, Nadal, who is aiming to win his first ever Miami title, spoke about his milestone and how he was happy to prove his doubters wrong.
"One thousand matches is a lot of matches," Nadal said, as quoted on Reuters. "Obviously that's good news because that says I am having a long career. During a lot of years, I heard that I'm going to have a short career, so it's something important for me."
"I remember the first match very well because it was at home in Mallorca. It was my first victory on the ATP and was a great feeling."
The 14-time Grand Slam winner also spoke about the effort of Kohlschreiber and how he managed to turn the game around.
"He [Kohlschreiber] was doing everything good, so that's sport," he added. "When somebody is playing the way that he was playing that first set, I lose the set because he was playing too good. That's it."
"But a match is long and the positive thing is I held the pressure well after a very tough first set. I resisted well in the first few games of the second set and then I think I played a great second and third set."
Meanwhile, Kei Nishikori defeated Spain's Fernando Verdasco 7-6 6-7 6-1 to advance to the Miami Open round of 16 while Milos Raonic had to withdraw from his match with Jared Donaldson due to a hamstring injury.