John Kerry Fires Warning Shot at Kim Jong-un over Missile Test
North Korea will not be accepted as nuclear power, warns Barack Obama's secretary of state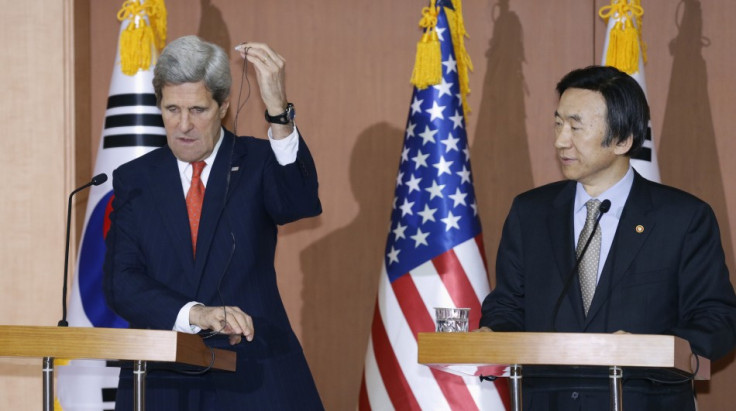 US secretary of state John Kerry has warned North Korea not to test a medium-range missile and said a launch would be a "huge mistake".
During a visit in South Korea, Kerry said the US would not accept Pyongyang as a nuclear power.
"We are all united in the fact that North Korea will not be accepted as a nuclear power," Kerry said. "The rhetoric that we're hearing from North Korea is simply unacceptable."
Kerry said that North Korean leader Kim Jong-un needed to understand the terrible outcome of a conflict.
He maintained that Pyongyang risked increasing its isolation if it launched the missile. American officials fear the weapon had a range of 2,500 miles - enough to threaten the US Pacific territory of Guam.
"If Kim Jong-un decides to launch a missile, whether it's across the Sea of Japan or in some other direction, he will be choosing wilfully to ignore the entire international community," Kerry told reporters. "And it will be a provocation and unwanted act that will raise people's temperatures."
The South Korean president, Park Geun-hye, told Kerry: "Given the escalating tensions on the peninsula, your visit will certainly showcase how closely we are coordinating our efforts."
Kerry also dismissed a new US intelligence report by the Pentagon that expressed "moderate confidence" in North Korea's ability to mount nuclear warheads on a missile.
Pentagon spokesman George Little played down the report. It would be inaccurate to say that Pyongyang "has fully tested, developed or demonstrated the kinds of nuclear capabilities referenced", he said.
Kerry added: "They have conducted a nuclear test so there is some kind of device. But that is very different from miniaturisation and delivery and from tested delivery and other things.
"Does it get you closer to a line that is more dangerous? Yes."
© Copyright IBTimes 2023. All rights reserved.