Kevin Pietersen is good enough to walk into most cricket teams in the world and the England camp must forget previous indiscretions if the hierarchy decide to recall him, says former team mate Matthew Hoggard.
The South African-born Pietersen, who has frequently been labelled a disruptive dressing-room influence, was sacked in February 2014 following the 5-0 Ashes defeat in Australia.
However, in March, new England and Wales Cricket Board (ECB) chief Colin Graves said the swashbuckling Surrey batsman could force his way back into the international fold if he scored lots of runs for his county.
Pietersen bludgeoned 170 against MCC Universities Oxford on 12 April and Hoggard said that innings showed he was serious about trying to make a test comeback.
"His 170 may only have been against a universities team but it has given the selectors a reminder of what he can do," the former Yorkshire seamer said in an interview.
"The million-dollar question is, can he get on with coach Peter Moores, captain Alastair Cook and the other players again? Kevin Pietersen, on paper, would walk into most teams in the world performance-wise. He can score very heavily, he puts bums on seats and he takes games away from the opposition."
'Pulling in the same direction'
Hoggard, England's ninth-highest Test wicket taker with 248 victims in 67 games, said once the cricket ends everyone can go their separate ways if they choose.
"I firmly believe that when you put on that Three Lions whether it is in training or in a game that you are all pulling in the same direction," the 38-year-old said.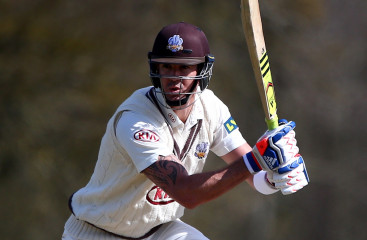 "You don't have to like the person you are pulling in that direction with. As soon as you take that top off you can walk separate ways, you can go into that restaurant, I can go into that restaurant, you can go to separate rooms.
"But as soon as you put on a team uniform you have one goal and that is to win a game of cricket for England and perform the best you can do.
"I don't understand the personality clashes. I think that is irrelevant. You have got to... as soon as you put on the Three Lions you have to put all that behind you and pull in the same direction."
Hoggard, who played alongside Pietersen in 2005 when England won the Ashes for the first time in 19 years, said he himself was an example of someone who liked to get away from it all when stumps were drawn at the close of play.
He said: "It's not always about living and breathing together with the same people. You train together, get on the coach together, play the game and then when you get back to the hotel you can disappear.
"I was a big fan of disappearing and ordering room service, not because I didn't like the people I was with, but simply because I needed to recharge."
Past mistakes and 'handbags at dawn'
Hoggard said mistakes were made by both sides when the batsman was sacked. Pietersen, who has scored 8,181 Test runs and 4,440 one-day international runs, wrote of behind-the-scenes incidents in a 2015 book while the ECB never fully explained why he was jettisoned from the squad.
"We still don't know the full story of what went on and I'm a massive believer that what goes on in the dressing room should always stay in the dressing room," he said.
"You work so hard to get in there at international level that I think the politics should stay in there. That's sacrosanct and it shouldn't come out.
"Unfortunately it has all been like handbags at dawn. It's been handled very poorly by both sides and if Kevin Pietersen is to return it is going to be a long trip and a slow trek back."
Matthew Hoggard will raise money for cricket development and HIV/Aids charity Cricket Without Boundaries by taking the plunge at four open water swimming events starting on 12 June.