'Kevin Spacey for Egyptian President' Mock Campaign on Social Media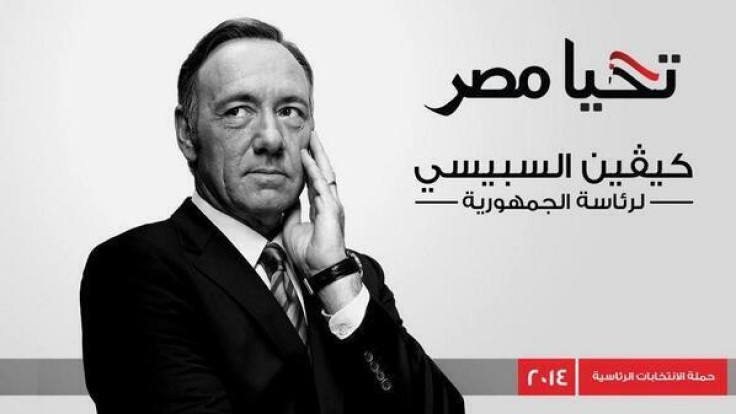 A mock campaign for the Egyptian presidential elections has pitched House of Cards actor Kevin Spacey against the actual contender and former army chief Abdel Fattah al-Sisi.
Given the high likelihood of al-Sisi's victory against his sole opponent, the spoof campaign is swiftly gaining momentum in cyberspace.
Slogans like 'Long Live Egypt' and 'Spacey for President' are also being shared across social media networks, reports Al-Arabiya.
In one of the widely shared campaign images, the House of Cards' Frank Underwood has been bestowed with the name of "Al-Spacey" and urged to carry on the political battle against al-Sisi.
In the popular TV drama, the actor goes on to become the president of the United States.
A twitter user named Mureed Hammad wrote: "As a fan, I support @KevinSpacey for president of #egypt."
However, this is not the first time Spacey has been dragged into the Egyptian political scene. When president Hosni Mubarak was toppled in February 2011, Spacey said during a red carpet event: "As exciting as it is being here, nothing is more exciting tonight than what has happened in Egypt."
Egypt is set to hold presidential elections on 26 and 27 May and al-Sisi is pitted against leftist candidate Hamdeen Sabahi. The former Egyptian army chief is widely predicted to win the elections.
The Arab world's most populous country has been undergoing severe political turmoil ever since popular protests erupted four years ago demanding the resignation of Mubarak.
Muslim Brotherhood's Mohamed Morsi won a presidential election in June 2012, but he too was overthrown a year later in the wake of mass protests.
© Copyright IBTimes 2023. All rights reserved.