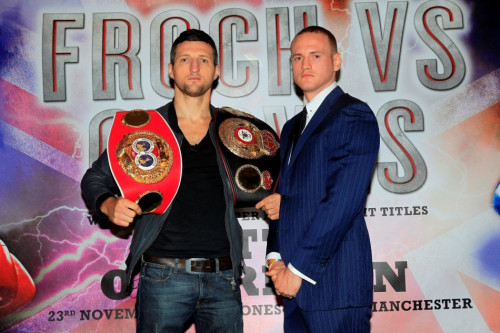 The fight we were all waiting for is on. Billed by some as the biggest rematch in British boxing since Chris Eubank took on Nigel Benn at a packed Old Trafford in 1993, Carl Froch v George Groves II has been fervently expected since the Nottingham-born fighter was controversially awarded the win in their premier encounter last November.
With a date confirmed and contracts signed, all that needs to be decided is the venue. But elsewhere across the spectrum of domestic boxing there are a cluster of other all-British encounters that could further define 2014.
Scott Quigg v Carl Frampton
The two unbeaten bantamweights have been on a collision course for some time and 2014 is likely to be the year of their inevitable showdown. Both fighters have risen to the summit of their respective rankings after Quigg successfully defended his WBA championship on the undercard of Froch v Groves last November while Frampton returned from an eight month hiatus without skipping a beat to become number one contender for the IBF belt with a win over Jeremy Parodi in December.
Both are now well placed in the upper echelons of the super-bantamweight division and a battle of Britain between Belfast-born Frampton and Bury's Quigg seems like a no brainer for 2014.
Tyson Fury v Dereck Chisora II
With David Haye still mulling over a second retirement having suffered a shoulder injury, David Price still picking up the pieces of his career following consecutive knockouts and Anthony Joshua a relative novice in the division, Chisora v Fury II seems like the best bet for an all British heavyweight bout this year.
The pieces are already firmly in place for this with both men in action at east London's Cooper Box this Saturday. Reigning European champion Chisora takes on American Kevin Johnson after Fury enters the ring for the first time in 10 months against Joey Abell on the undercard. Should they come out on top, expect a title eliminator between the two for the chance to try and end Wladimir Klitschko's 10 year reign at the top.
Stuart Hall v Jamie McDonnell II
These two clashed in an enthralling match up three years ago with McDonnell outpointing his opponent to win the European and Commonwealth bantamweight championship. The catalyst for a likely 2014 rematch came after McDonnell was controversially stripped of the IBF title for failing to defend it within the required six month period last year.
Shortly after the belt was vacated, McDonnell's loss was Hall's gain as the Yorkshireman beat South Africa's Vusi Malinga to claim the belt last December, before immediately offering his old adversary McDonnell the chance to be his first defence of his new title.
Amir Khan v Kell Brook
Although it's looking increasingly likely that Khan will attempt to dethrone the best pound for pound boxer on the planet in Floyd Mayweather this May, the Bolton-born fighter still has unfinished business with old nemesis Kell Brook. The pair have traded insults for years and a measure of Brook's desire to knock Khan out is evident by his inclination to overlook his own title shot in order to make this grudge match happen.
The Sheffield-born Brook stopped Vyacheslav Senchenko in four rounds to make him the mandatory challenger for the IBF welterweight strap last year but remains focused on Khan, insisting his old foe is undeserving of his proposed bout with Mayweather. This has been simmering for some time and while separate divisions have kept them apart so far, it may be just a matter of time before this is settled.