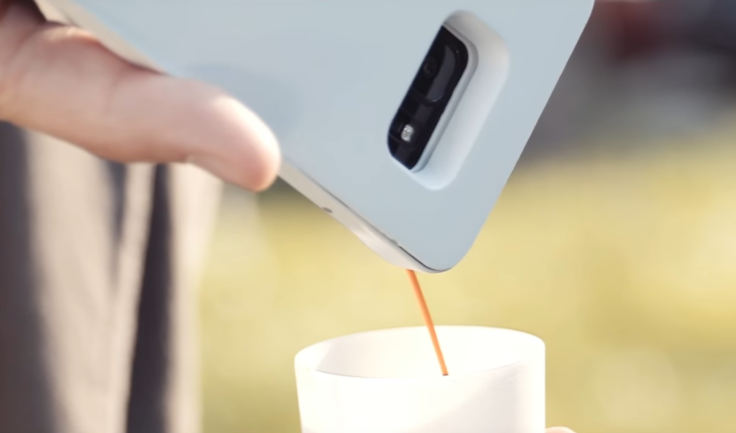 Wouldn't it be great if your smartphone could also dispense coffee, said no one ever. It stands to reason, then, why crowdfunding site Kickstarter has suspended funding on a phone case that promised to keep your handset protected while also doling out caffeine hits as and when you needed them.
Mokase advertises itself as "the first multi-utility phone cover [that] supplies espresso coffee whenever you want". Designed for iPhone and various Android smartphones, users would supposedly be able to slot in pods of "liquid coffee" that could be heated and dispensed from the case at the tap of a button.
But just five days after being launched, Kickstater has suspended funding for the project. The company told IBTimes UK that its creators had been unable to produce a prototype that met its standards.
But perhaps this isn't a bad thing: aside from the fact that sticking pouches of liquid into your phone is idiotic, Mokase would also involve an integrated heating system that would warm the coffee to between 50 and 60 degrees, which sounds like a lawsuit waiting to happen.
Mokase's Italian creators only offer vague information as to how such a system might work from a technical standpoint, although some details appear to have been lost in translation. The project page cites resistors made from "a special alloy concentrate that heat in the middle" to warm the coffee, although they maintain that the system would not "disperse energy [or] affect the smartphone operation in any way".
Power output would be handled by a built-in control board connecting the case to the smartphone via USB-C. Once heated – a process that would apparently take between 15-20 seconds – the coffee would be dispensed through an aluminium-silicon alloy tube into an accompanying pop-up travel cup that could be carried around on a keychain.
Coffee aficionados would be able to choose between classic, toasted and Arabic blends, however, pods would have been sold separately from the cover, likely making this a fairly expensive way of drinking your morning cup of joe.
Kickstarter said that Mokase would be able to return to the platform if and when it manages to develop a prototype that met its requirements. In its defence, it's an ambitious idea and who knows, perhaps in the future we'll all be drinking fluids from our smartphones. Unfortunately for Mokase, that time is not now.