Kiddle is the latest kids-friendly search engine that squarely aims to become the Google for kids. Ironically, it makes use of Google's algorithm to create a customised search experience targeted solely at kids.
With the boom in internet space, every other kid is now online; either they are busy playing multiplayer games or surfing away the net in utmost joy. Parents are, however, worried about the way their kids will access the internet and how it will affect their development, as very often than not the internet is a warehouse of many a content which may not be suitable for kids. This is where a search engine aimed primarily at kids comes in. It helps the parents keep a watch on their kids' movements as well as restrict them from accessing explicit content.
While there are many kid-centric search engines available on the web including KidRex and Ask Kids, not many are as good or easy to use as Kiddle. So without further ado, let us dig deep and find out more about the features Kiddle has to offer.
Search results are handpicked by human editors
Kiddle makes use of human editors to weed out most of the explicit content and even some search results are personally handpicked by their editorial team. As per an official statement, Kiddle lists search results in the following order – safe sites written specifically for kids and handpicked by Kiddle editors (results 1-3); trusted sites that are not written solely for kids but chosen by editors (results 4-7) and the rest comes directly from Google Safe Search.
Weeds out all explicit content to display kid-friendly search results
Kiddle's intuitive search engine makes use of a specific algorithm to filter out all explicit content and display search results which are only useful to kids. Take for example, keyword 'Salman Khan'. It provides search results of Salman Khan, founder of the famous Khan Academy and not that of Bollywood celebrity Salman Khan!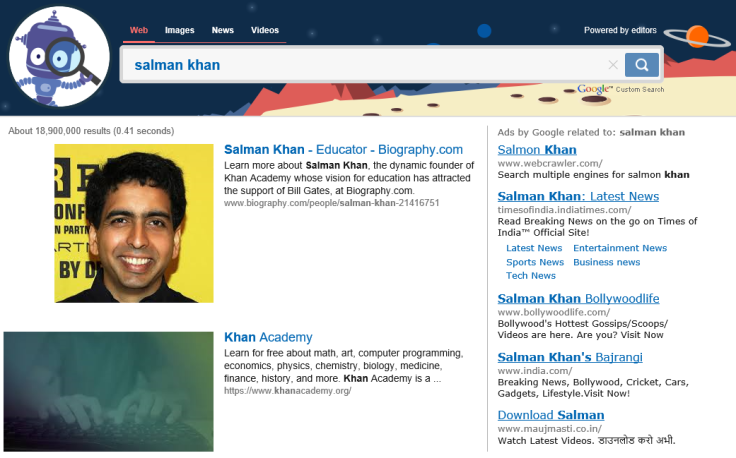 Large thumbnails make search results more presentable
As you may already be aware, kids are attracted by illustrations and not long paragraphs of written content. Hence to make Kiddle more kids-friendly the search engine makes use of large thumbnails before each search result. Besides that, the search engine filters content with more illustrations than written text. Kiddle also makes use of large Arial fonts to attract your kid's attraction.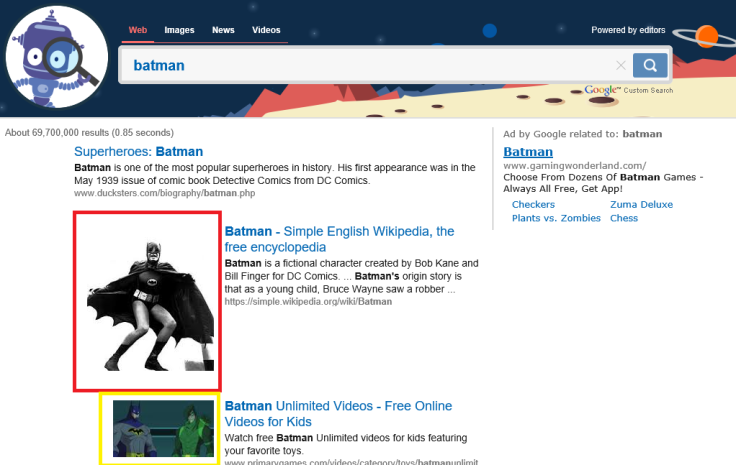 Type a 'bad' word only to encounter an angry robot
Kiddle has its own list of explicit words which they refer to as 'bad' words. These include words like 'sex' and 'genitalia'. So just in case your kids end up typing one of these 'bad' words in the search box, they would encounter an angry robot.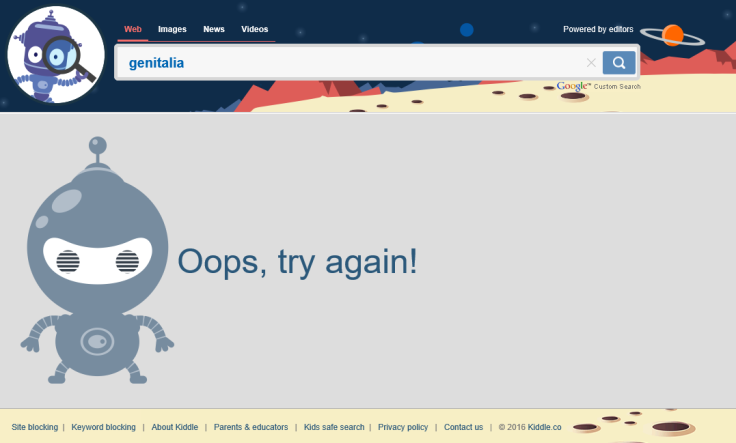 Fails to filter Search Ads
Though Kiddle has succeeded in weeding out almost all explicit content barring a few including 'Fifty Shades of Grey', the advertisements are still not filtered in most cases. Some of the advertisements which pop up on the search engine aren't suitable for kids.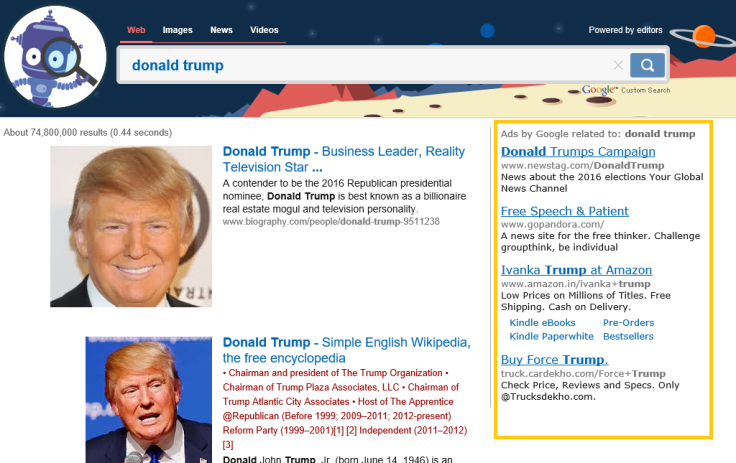 Privacy of your kids is in safe hands
One major issue for anyone while browsing is online privacy, more so for kids. With Kiddle though, the privacy of kids is in safe hands as the search engine doesn't collect any personally identifiable information and claims that their search logs are deleted every 24 hours.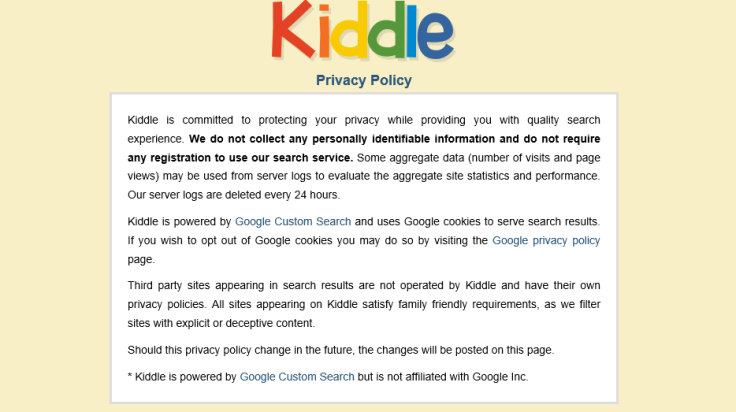 Ability to request blocking of inappropriate websites, keywords
Kiddle provides the parents with full control by allowing you to notify their editors, just in case they have missed out on any website or keywords which you feel is inappropriate for kids. All you need to do is to head over to the Site Blocking or Keyword Blocking option at the bottom of the Home Page and fill in the request form.