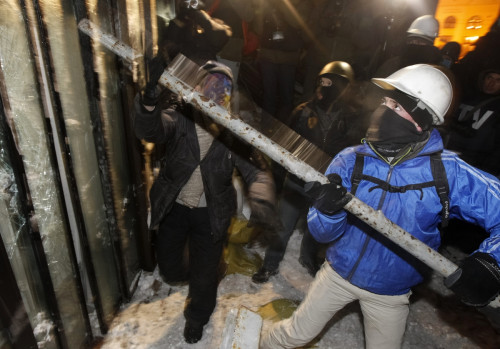 Ukrainian opposition leader and former boxing champion Vitaly Klitschko has rejected President Viktor Yanukovich's latest concession, which includes the prime minister's post, calling it a "poisoned" offer.
The key opposition leader insisted his side will demand more from Yanukovich to halt the ongoing protests.
"This was a poisoned offer from Yanukovich, designed to divide our demonstrators' movement. We will continue to negotiate and are still demanding early elections," Klitschko told the German Sunday paper Bild am Sonntag.
"The protest by Ukrainians against the corrupt president must not have been in vain."
As part of the latest compromise to quell the spiralling demonstrations, Yanukovich had offered the premiership to opposition leader Arseniy Yatsenyuk and the deputy premier position to Klitschko.
In addition, Yanukovich has promised to amend the constitution either through legislation or a referendum to dilute the power wielded by the head of state.
Yatsenyuk reacted coolly to the proposal and urged the administration to act on its words.
Referring to the upcoming parliament session in which the ministerial posts could be allocated, he said: "Tuesday is judgment day. We do not believe any of their words, we believe in action."
Addressing large crowds in the capital Kiev, Yatsenyuk said: "Viktor Yanukovich announced that the government wasn't ready to take the responsibility for the country and offered to the opposition to lead the government. What is our response to this? We are not afraid of the responsibility for the destiny of Ukraine."
The Ukrainian opposition groups, which have been holding protest rallies for more than two months, have made it clear that they need early elections as well as changes to the anti-protest legislation.
Ukrainian presidential elections are due in 2015.
Alongside the ongoing political negotiations, protests continue in many parts of Kiev with riot police attempting to disperse mobs.