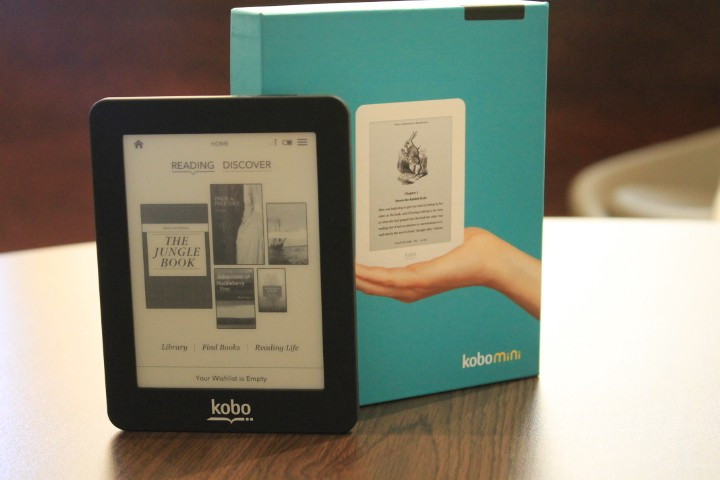 Key Features:
5in touchscreen, 800 x 600 resolution
One month battery life
Weighs just 134g
Wi-Fi
2GB storage
Kobo Mini: Introduction
Ereaders have a strange job. They've to look good enough to attract buyers, but then disappear and play second fiddle to the books stored on them. This has led to all ereaders looking very similar and essentially all offering the same experience.
Kobo has attempted to change this by making the Mini, a 5in reader that is the cheapest on the market and has some software features aimed at bringing more life and entertainment to reading, as well as interchangeable back covers.
By giving the Mini a 5in screen - two inches smaller than the front-lit Kobo Glo - and a sub-£60 price, has Kobo created a new sector in the ereader market? Let's find out.
Kobo Mini: Design and Feel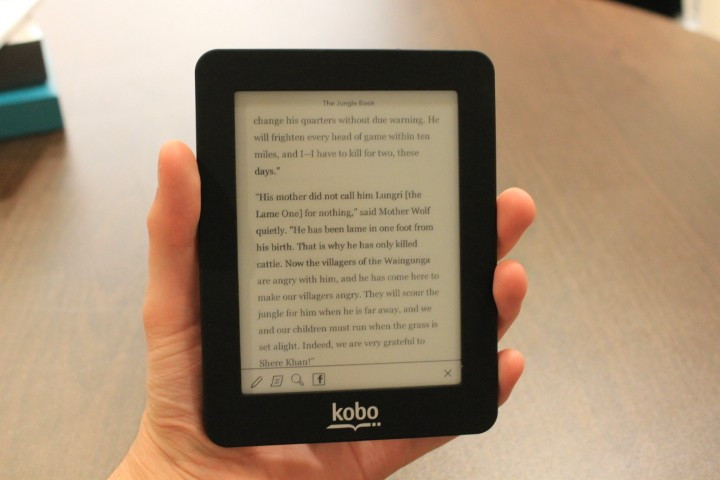 Borrowing exactly the same design as the larger Kobo Glo, the Mini measures 102 x 133m and of course most of that is devoted to the 5in screen.
Although we would have liked Kobo to have slimmed down the Mini's borders, you have to remember that this is a touchscreen, so if there wasn't space either side of the display to comfortably rest your thumb, then accidental page turns would happen far too often - it's a compromise between looks and function, but we're fine with that.
There is a power switch on the top edge, a microUSB port for charging and syncing on the bottom, and the rear case can be removed - with difficulty, it must be said - to be replaced with different-coloured alternatives.
It's a strange addition, given that the front panel only comes in white or black, but as we think the Mini will sell well among younger readers, a splash of personalised colour on the back won't do any harm - although the extra back panels are all sold separately.
Kobo has given the Mini the same rubberised finish as on the Glo, which makes the reader very comfortable to hold, and being just over 50 grams lighter than the Glo, we found the Mini very easy to hold in one hand for long periods of time.
At 10mm, the Mini is exactly the same thickness as the Glo, which at first we considered a negative, but after some time with the Mini, we realised that if it was any thinner, it would in fact be more difficult to hold comfortably.
Another function-over-form point for Kobo there, given that a thinner device isn't always better.
Our review sample was black, which we found to be a distraction from the grey screen, so we think the white model would be easier to read - this is probably a personal thing, but white or black, the Mini is still an attractive device.
Kobo Mini: Screen and Performance
The Mini and Glo share exactly the same operating system, so you get access to the same bookstore, same range of customisable fonts, and the same awards system and Facebook integration.
As there are no buttons, pages are turned by tapping on the right or left of the page to go forward or back, or you can swipe either left or right anywhere on the screen to navigate through your book.
A tap roughly in the middle while reading brings up toolbars with links to Home, settings, search and font size.
There's Wi-Fi to connect to the Kobo book store and searching is easy thanks to an on-screen keyboard. We found the screen to be surprisingly responsive to touch, after we thought the Eink technology would be slow to react to fast movements like typing.
There are seven different font styles to chose from and each has 24 different sizes to help you find one that is the most comfortable for you, and added to that is the ability to adjust the weight and sharpness of each font - Kobo tells us that the number of fonts on offer here is almost limitless.
It seems that anything can be shoehorned into a social network today, and that even includes reading, as with the Kobo Glo you can tell your friends on Facebook what you've been reading.
As a part of Kobo's Reading Life, you can view a page of stats about your reading history - this includes the average number of minutes you spend reading at a time, total hours read, pages turned, books finished and the percentage of your library that has been read - there's nothing groundbreaking here, but maybe it'd make a nice reference for parents who can keep up with how much (or little) their child has been reading.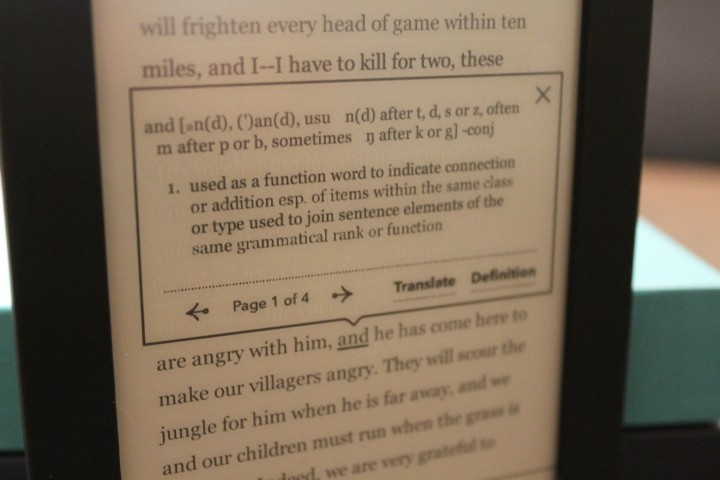 Reading Life also has a range of 'Awards' to collect; these include badges for reading at night, reading two books at once, connecting to Facebook, and reading a particularly long book, like War and Peace. It's all quite pointless if you ask us, just give us a book and a way to turn the pages, but then to kids it might well appeal.
Inside, there is 2GB of storage - enough for around 1,000 books - but sadly no microSD card slot, so storage can't be increased, as it can on the larger Glo.
Although, if we're being honest, space for 1,000 books is plenty, and you can always delete them to make space for more, safe in the knowledge they can be downloaded again for free.
Being smaller than the Kobo Glo, the Mini requires you to turn the page more often, but Kobo has worked hard to reduce the screen refresh time as much as possible.
As with the Glo, we found that some pages changed without us even noticing, while others created the whole screen to flash, as was the case with ereaders of old.
Our best guess is that the full page 'flash' happens only when a certain amount of e-ink has to be moved around, whereas two pages that look fairly similar don't require the entire page to be refreshed.
Either way, it's a small issue that is shared by all ereaders.
Kobo Mini: Verdict
For those who are unsure about making the step from wooden shelves full of leather bound books to storing them all on an ereader, the Kobo Mini and its low price make perfect sense.
At a penny under £60 the Mini is priced well, but don't forget that the new Amazon Kindle is just £69 and its screen is an inch larger.
But having the bigger screen isn't always better, as the Kobo Mini just about fits into the back pocket of your jeans or a jacket inside pocket, and it's this extra portability that makes the Mini an attractive product.
The price, size and durability also make the Mini a good choice for parents wanting to encourage their children to read more, and we can see the Facebook integration and awards system coming into play here, giving younger readers targets to aim for as they read.
Choosing this at £59.99 or the Kindle at £69 is a tough one, and we expect most shoppers to opt for the Kindle, given its proven track record and the familiar Amazon bookstore, but for anyone who wants an ereader that is more pocket-friendly or for their children, the Kobo Mini is definitely worth a look.
Scores
Design: 9/10
Screen: 8/10
Performance: 8/10
Value: 9/10
Overall: 8/10
The Good:
Compact size is pocket-friendly
Screen as good as any other
Excellent battery life
The Bad:
Screen isn't front-lit
No microSD card slot for extra storage
Kindle is just £10 more