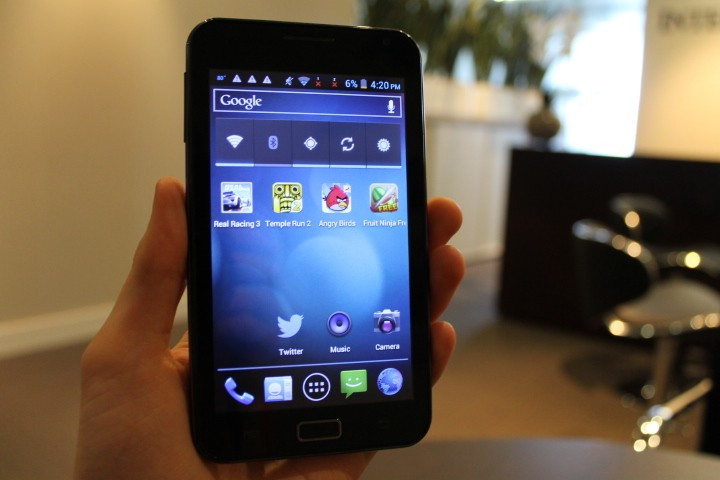 Key Features:
5in screen, 480 x 800 resolution, 186 pixels per inch
Dual-core 1GHz processor with 512MB of RAM
4GB internal storage plus microSD slot (up to 32GB)
5-megapixel rear camera with flash
Android 4.0.4 Ice Cream Sandwich
Price as reviewed: £119
Kogan Agora Review
Look at five of the six bullet points above and you'd be mistaken for thinking the Kogan Agora was a smartphone from a couple of years ago, albeit with a huge screen. But look at the last point, the £119 price tag, and you start to understand why this phone cannot be judged fairly against anything else on the market. It's four times cheaper than the iPhone 5, which skews your expectations so far that it's difficult to know what to expect from the Agora.
Design and Feel
Looking a lot like the original Samsung Galaxy Note, the Kogan Agora is a handsome and well-made phone. At 180g it isn't light, but the 143 x 80 x 9.8mm device feels sturdy and comfortable to hold.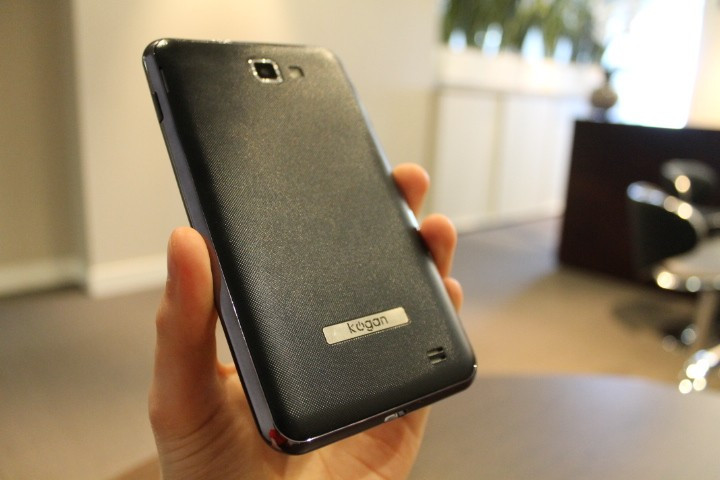 The 5in screen is protected by glass and sits above a central Home button flanked by touch sensitive menu and back buttons; there is a VGA quality camera in the top-right corner for video calls.
A chrome bezel runs continuously around the outside edge of the phone, giving it a premium look and houses a screen lock button on the right, volume rocker on the left, headphone jack at the top and a micro USB port below.
The removable back cover has a textured finish, also similar to the original Galaxy Note, housing a 5-megapixel camera with flash at the top and a speaker in the lower right corner.
Peel off the back and you are greeted by a large battery, microSD card slot for cards up to 32GB and two regular-size SIM slots. This will appeal to those with a holiday home abroad or users who travel a lot and have SIM cards for different countries, as you can leave both installed and flick between them in the phone's settings menu.
Display
The Agora's 5in display is as large as you get on the Samsung Galaxy S4, but at 480 x 800 the resolution is significantly lower than the S4 and most other phones on the market, but then Kogan had to make cutbacks somewhere to meet that £119 price.
Stretching a fairly low resolution across a large screen results in text becoming jagged and icons appearing rough around the edges, as individual pixels can be seen. Although Apple, HTC and Samsung tell us that more pixels and a higher density is always better, it's surprising how quickly your eyes get used to a change in resolution, but this phone's problems run much deeper than that.
A bigger problem with the Agora's screen is how poor the viewing angles are. Tilt the phone up slightly (when held in portrait) and the display's colour quickly becomes negative; tilt it down and they become pale.
Add this to a permanent blue tinge making everything look colder than it should be, along with washed out colours, and the side effects of a low price become even more obvious. It's bright and responsive, but this isn't enough to rescue what is a very poor screen.
Software and Performance
Running a standard build of Android 4.0, Kogan has steered clear of installing a custom interface like Samsung's TouchWiz or HTC's Sense.
There are a couple of extra applications, such as a note taking app, stopwatch and Magic Keyboard, which is installed by default and helps to improve typing accuracy on the standard Android keyboard, but otherwise it's exactly as Google intended.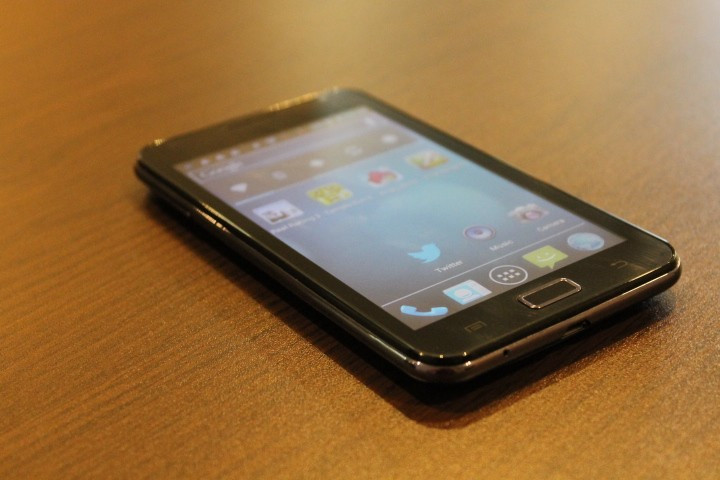 You don't need to ask much of the Agora's dual-core 1GHz processor and 512MB of RAM for it to struggle, as even navigating around the home screens and application drawer can cause the interface to stutter.
It's not frustratingly slow, but lacks the instant response any iPhone or high-end Android owner will be used to, and I found even basic games like Temple Run would take 10 seconds or more to open. Multitasking is found through a long press of the Home button and while it works, switching between apps isn't particularly smooth and quickly closing an app opened by accident takes longer than you'd expect.
On one occasion I opened Fruit Ninja, but before the game appeared the phone completely froze and would not reboot until I removed and replaced the battery.
If all you need from a smartphone is the ability to run basic apps, browse the web and do some occasional light gaming, then the Kogan will work fine, but ask anything else of it and you'll wish you spent a bit extra on something more capable.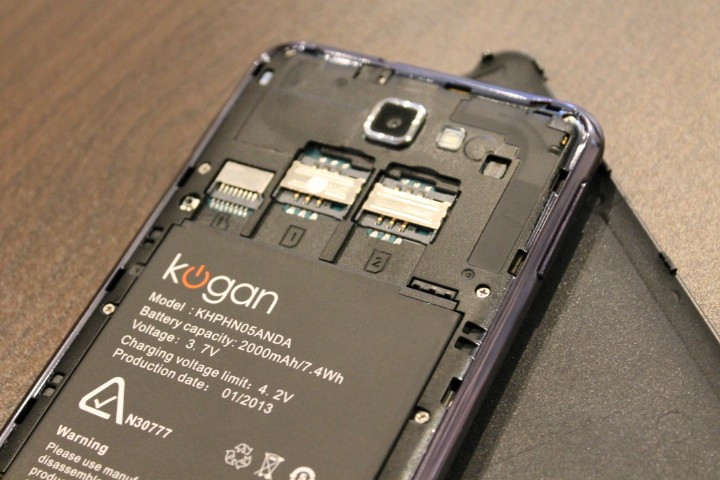 Inside, there's Wi-Fi, Bluetooth, GSP and an FM radio, but the Agora misses out on 4G and NFC.
Thanks to its large size the Agora has a 2,000mAh battery which is almost 40% larger than the iPhone 5's, but despite the low resolution and weedy processor, battery life is depleted surprisingly quickly.
Around seven minutes of high quality (the screen can't do HD) YouTube video over Wi-Fi saw the battery drop by 10%; it's no surprise that by default the screen will turn itself off after one minute to try and preserve charge. Most buyers will get a day of light use out of it, but I was hoping for more given its capacity.
Camera
Android phones always have fully-featured camera applications and the Agora is no exception. There's the usual range of filters, scenes and white balance options, as well as HDR (high dynamic range) and the ability to shoot panoramic photos.
Sadly, the 5-megapixel camera lets the application down, as the photos it takes are pale, washed-out and seriously lacking in vibrancy and colour.
Conclusion
The Agora's biggest feature is its price, making it easy to ignore some of the phone's shortfalls. It looks good, feels well made, I was pleased to see standard Android with no Touchwiz-style skin, and the dual-SIM option will be a welcome addition for some users.
But for all its bargain-basement charm, the Agora still has a disappointing camera, poor screen and below par battery life that leaves me wondering why Kogan bothered at all. Perhaps the idea of a 5in Android phone was unheard of when development on the Agora began, but now that size range has been swamped.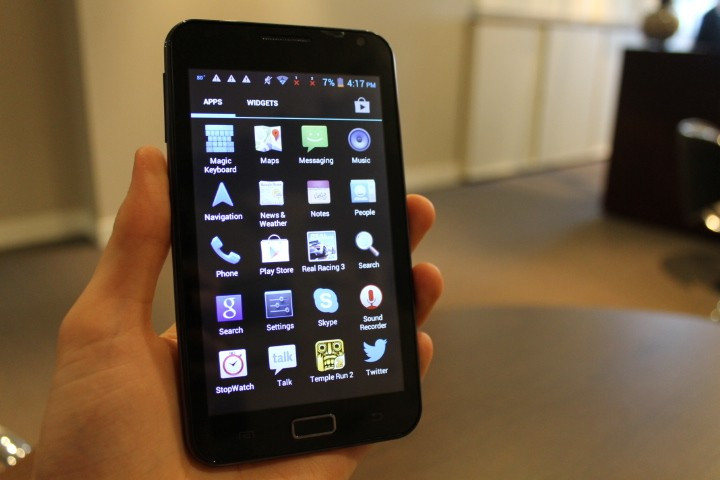 Kogan should have made a smaller phone with a better quality, higher resolution screen, then perhaps it would have been worthwhile. Unfortunately, it simply isn't a good phone no matter how low the price is. Up your budget to around £220 and buy an original Galaxy Note second hand.
Scores:
Design: 7/10

Build Quality: 7/10

Display: 4/10

Connectivity: 6/10

Overall: 6/10
The Good:
Very cheap

Good looks

Decent build quality
The Bad:
Terrible screen

Slow processor

Poor battery life